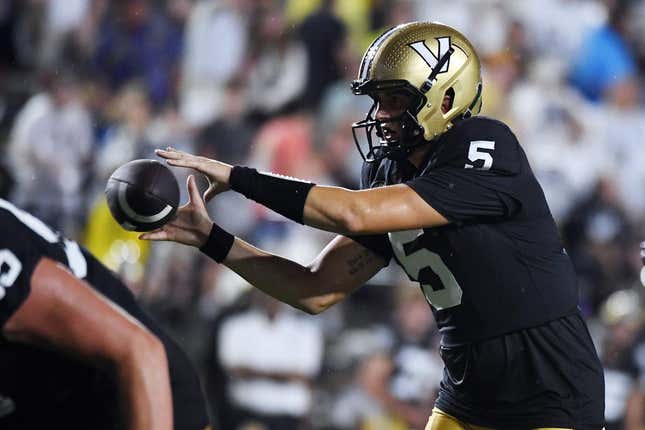 Vanderbilt looks for a 2-0 start when it plays host to Alabama A&M on Saturday evening at Nashville, Tenn.
How running an NFL team is like running a restaurant | Chef Emeril Lagasse
The Commodores, while happy to get a win in last Saturday's 35-28 home victory over Hawaii, know they have plenty of room for improvement. Hawaii outgained Vanderbilt in yards 391-297 in a rematch of last year's season opener, a 63-10 Vandy win at Honolulu.
Vanderbilt quarterback AJ Swann hit 19 of 30 passes for 258 yards and three touchdowns, two to Will Sheppard, who had six catches for 68 yards. Jayden McGowan had six catches for 72 yards as well as a 97-yard kickoff return for a score.
"Happy to start 1-0 and to be able to learn from a win," Vanderbilt coach Clark Lea said. "I think first games are sloppy games and we certainly survived a sloppy one Saturday."
Vandy's issues included eight penalties for 72 yards. The Commodores didn't have a turnover, while Vandy safety De'Rickey Wright had two interceptions — a first-half pick in the end zone and another with 1:43 left in the game.
But Vanderbilt nearly blew a 21-point, fourth-quarter lead while struggling to run the ball. The Commodores carried 26 times for 39 yards, which includes Swann getting sacked three times for minus-26 yards.
FCS opponent Alabama A&M finished 4-7 last season. The Bulldogs lost in both tries against FBS teams, falling 59-0 against UAB and 38-17 against Troy in the first two games of the season.
Alabama A&M was picked fourth in the Southwest Athletic Conference's Eastern Division in the preseason coaches poll. Running back Donovan Eaglin, offensive lineman Jonathan Williams and defensive lineman Zareon Hayes were named to the preseason All-SWAC team.
Eaglin ran for more than 800 yards and better than 5 yards per carry last season.
"I think the strength of the team will probably be the offensive line," Alabama A&M head coach Connell Maynor said. "We've probably got four starters returning and we've got one who's a first-team all-conference player."
Hayes tallied 53 tackles, with 16.5 tackles for loss.
—Field Level Media