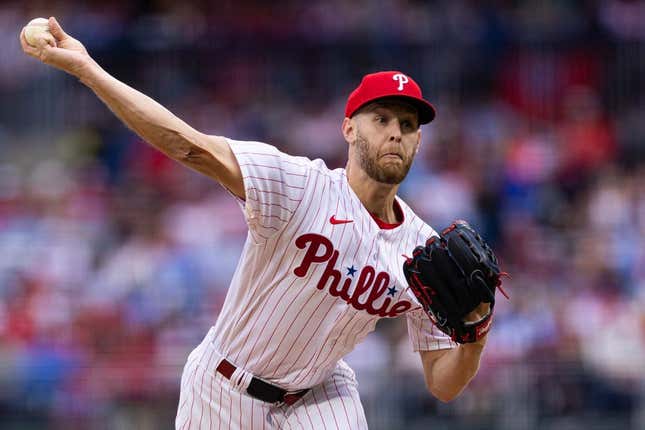 Forecasted high winds and cold temperatures have delayed the start of the visiting Philadelphia Phillies' series against the Chicago White Sox
Bass' ERA stinks, but not compared to who he is off the mound | Worst of the Week Countdown
Monday's game was rescheduled as part of a doubleheader, with Tuesday's regularly scheduled game to begin 30 to 45 minutes after the conclusion of Game 1.
Zack Wheeler (0-1, 4.02 ERA) will take the mound for Philadelphia in the opener, with Bailey Falter (0-2, 4.80) pitching in the nightcap. Lance Lynn (0-1, 7.31) and Lucas Giolito (0-1, 6.00) are expected to toe the rubber for Chicago.
The Phillies are coming off a 14-3 victory over the Cincinnati Reds on Sunday in which they plated nine in the first inning. Each starter collected at least one hit and one RBI, and the club piled up a season-best 23 hits
Second baseman Bryson Stott, who leads the National League in hits with 27, began the onslaught by taking the second pitch of the game out to right for his first home run of the year.
It was part of a three-hit night for Stott, who has hit safely in each of Philadelphia's first 16 games, matching the franchise record for the longest hitting streak to begin a season set by Willie "Puddin' Head" Jones in 1950.
"Like we've been saying, with the lineup we have, it was just a matter of time before one of these games happens," Stott said.
The defending National League champions have shown plenty of offensive potential, leading the majors in hitting (.293 as a team), while featuring the league leaders in doubles (Nick Castellanos, nine) and triples (Brandon Marsh, three).
Center fielder Marsh also leads the majors with a .756 slugging percentage and scored three times Sunday, doubling among his four hits to push his season average to .378.
Wheeler has improved over the course of his three starts this year. He allowed just one run on three hits with six strikeouts in a no-decision Wednesday against Miami.
Wheeler allowed three walks Wednesday and he looks to reduce the number of free passes.
"Us as pitchers, we need to stop walking guys, me included," Wheeler said. "It's free passes. It makes it a lot easier for the other team. We need to cut down on the walks."
The White Sox, who have lost five of seven, have yet to win a season series or consecutive games as they deal with an injury-riddled infield
Shortstop Tim Anderson (sprained left knee), third baseman Yoan Moncada (lower back soreness) and infielder Hanser Alberto (strained right quad) are all out for the Southsiders.
Center fielder Luis Robert Jr. leads Chicago with five homers and 11 RBIs, and Jake Burger homered in each of the three weekend games against Baltimore while filling in for Moncada at third.
"Jake's a big part of this lineup right now," manager Pedro Grifol said. "He can hit the ball out of the park."
"It's been fun," Burger said. "Hopefully, I just keep it up and keep it going."
Lynn scuffled through his first two starts before hurling a quality start Tuesday at Minnesota, striking out 10 with no walks while allowing three runs on seven hits over six innings.
Giolito also made progress in his last start, Wednesday at Minnesota, allowing just one run on five hits with seven strikeouts in six innings.
--Field Level Media