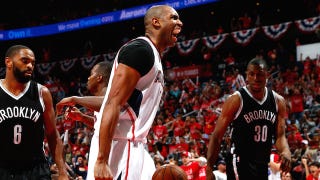 The Atlanta Hawks took a 3-2 series lead on the Brooklyn Nets with a 107-97 win Wednesday night.
The Hawks led for much of the way, but the Nets managed to make a game of it in the fourth quarter, pulling to within two points at 97-95 after a couple Joe Johnson threes. Jeff Teague and Al Horford then led a 10-2 run to put the game away.
Atlanta, who were the darlings of the East for much of the season, didn't inspire much confidence with the win Wednesday. The Hawks have been playing the pitiful Nets way too close in this first round, and haven't looked much like a one-seed the past six weeks of the season.
Not only have the Hawks looked less and less like the baby Spurs, the whole Eastern Conference playoff bracket leaves a lot to be desired. The Cavs death machine is missing Kevin Love. The Bulls can't figure out their big man rotation against a Bucks team that actively downgraded at the point guard position at the trade deadline. The Wizards shut down the conference's best offense, which makes us wonder a) how Toronto had the East's best offense and b) how we're living in a world where Randy Wittman has been the most impressive coach in his conference.
If last night's Spurs-Clippers game was a shot of Lagavulin, then watching tonight's game was like chasing with a glass of old milk.
Photo via Getty