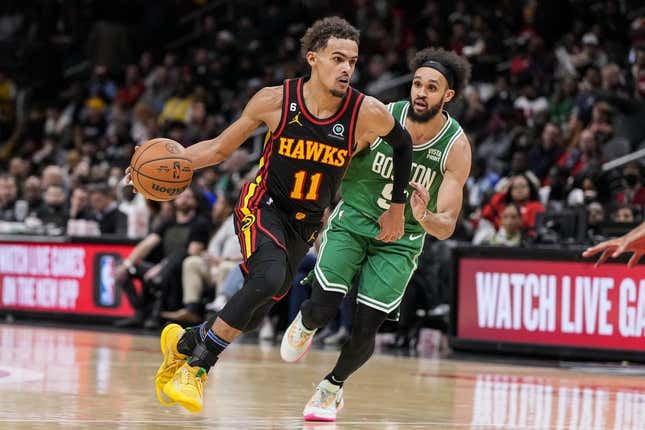 The Atlanta Hawks and Boston Celtics may very well go through the motions on Sunday afternoon when the teams play their respective regular-season finales at Boston
Can the Florida Panthers make a comeback? | Agree to Disagree
The Hawks (41-40) are locked in as the eighth seed in the Eastern Conference when the postseason begins. They will tangle with the Miami Heat in the play-in tournament on Tuesday, and a win in that contest would propel them into the playoffs against the second-seeded Celtics (56-25)
Atlanta saw its three-game winning streak come to a halt with a 136-131 overtime setback to the Philadelphia 76ers on Friday night. Hawks coach Quin Snyder was quick to note that there are more important matters ahead
"Obviously, the postseason is where your focus is," Snyder said. "We need to make sure we do what we need to do as far as our guys being rested. At the same time, we shouldn't let (Friday's) game be some dramatic statement about where we are."
Trae Young collected 27 points and a career-high 20 assists to offset nine turnovers on Friday.
"We have to be consistent with what's going good," Young said. He added that he will join his teammates in "going back to the film room and understand what got us there."
Young boasts team-leading averages in points (26.2) and assists (10.2). The two-time All-Star contributed 31.0 and 11.0, respectively, in the two previous games against Boston -- albeit both came in losing efforts for Atlanta.
The Celtics followed up Wednesday's 97-93 victory over the Raptors with a lopsided 121-102 win versus Toronto two nights later
Sam Hauser sank six 3-pointers to highlight his career-high 26-point performance on Friday.
"It's good to have one of those games where kind of everything's clicking," Hauser said, per the Boston Herald. "But I mean, obviously there's still some things we can clean up with the turnovers, but when everything's clicking like that, and everyone's making shots, obviously things are fun. And you're getting stops on defense, that's always fun, too.
"People are diving on the floor or offensive rebounding, that stuff's fun. And winning like that is really fun. So hopefully we can carry that over to Sunday and finish out the year on a high note."
Hauser's heroics helped Boston overcome the absence of All-Star Jaylen Brown, who sat out after he accidentally cut a finger on his shooting hand. Brown also will miss Sunday's regular-season finale against Atlanta but is expected to be ready for the playoffs.
Jayson Tatum got a head start in that regard as he sat out the second half on Friday. He likely will do the same for the entire game on Sunday afternoon as the Celtics prepare for the postseason
"Experience is the best teacher. And this group, the last two years, we've been through a lot," Tatum said. "We've accomplished a lot and we've failed. And we've failed together. Essentially, we've worked all off season and all preseason and had a great regular season ... to get back to this point, to get back to the playoffs, to get another opportunity, another shot."
--Field Level Media