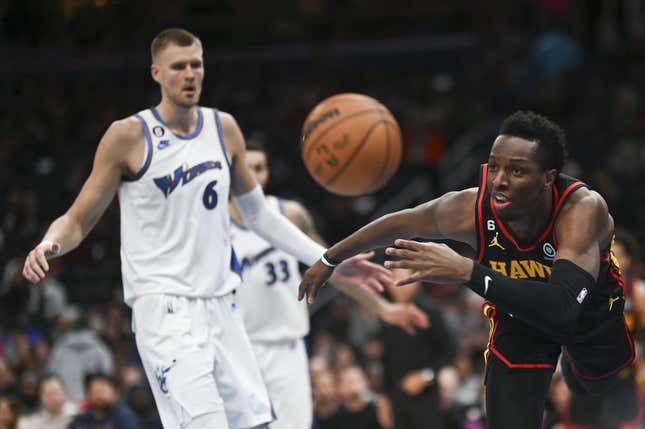 Trae Young's 3-pointer with 1:17 remaining capped his 28-point effort and helped the Atlanta Hawks put away the host Washington Wizards 114-107 on Friday.
How running an NFL team is like running a restaurant | Chef Emeril Lagasse
The Wizards trailed by as many as 13 points in the fourth quarter before trimming the deficit to two on a pair of Monte Morris free throws with 1:26 to go. On the ensuing Hawks possession, Young knocked down a pull-up 3-pointer, then motioned to the home Washington crowd for silence with his finger to his lips.
Young shot 6 of 10 from beyond the arc to pace Atlanta to a 15-of-31 performance (48.4 percent) from long range. His nine assists were a game high.
Bogdan Bogdanovic shot 4 of 8 from behind the arc and finished with 15 points off the Atlanta bench, while Saddiq Bey knocked down 3 of 4 trey attempts en route to 14 points in reserve duty.
De'Andre Hunter finished with 18 points for the Hawks, Dejounte Murray scored 16 to go with seven assists, and Clint Capela grabbed a game-high 10 rebounds to accompany eight points.
Washington shot just 7 of 27 (25.9 percent) from 3-point distance. At 3-of-7, Kristaps Porzingis was the only Wizard to make more than one triple.
Bradley Beal scored a team-high 27 points for the Wizards, and Porzingis had 22 points and a team-high nine rebounds. Kyle Kuzma added 17 points.
The Wizards had an opportunity to force a tie in the waning moments after Murray split tow free-throw attempts with 19.5 seconds remaining, giving Washington the ball trailing by three points.
Beal passed up on a potential 3-point shot and attacked the rim but missed the layup. Coming up empty on the possession squashed any hope of a Washington rally.
The Hawks completed a sweep of road sweep of the Wizards after posting a 122-120 victory on Wednesday. Eighth-place Atlanta extended its lead over 10th-place Washington in the Eastern Conference standings to three games with the consecutive victories.
--Field Level Media