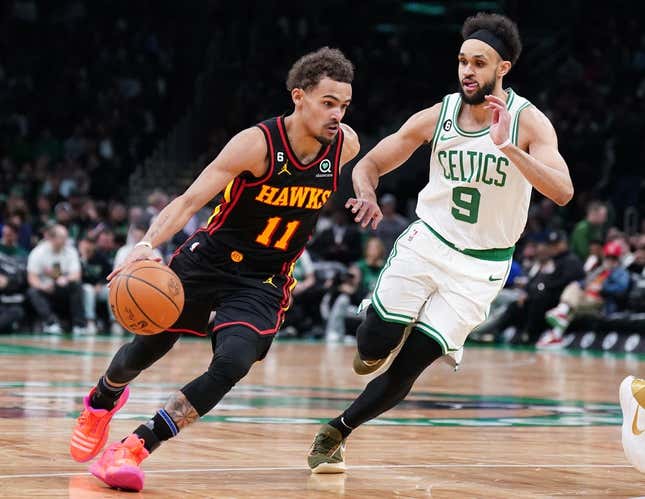 If the Atlanta Hawks are going to overcome an 0-2 deficit in their first-round playoff series against the Boston Celtics, they likely will need an improved performance from Trae Young at home Friday night in Game 3
'Soccer fandom is full of gatekeepers' says Ted Lasso actor Brendan Hunt
Dejounte Murray, Young's backcourt partner, has shot 21-for-49 from the field (7-for-19 on 3-pointers) in the series, but Young's numbers haven't been as impressive. Young has scored 40 points in the first two games, but is 14-for-40 from the floor and 3-of-13 on 3-point attempts.
Young was showered with chants of "overrated" from Boston fans when he went to the free throw line in the fourth quarter of Game 2 on Tuesday night.
Young scored 24 points in that 119-106 loss but was 9-for-22 from the floor and missed six of his eight 3-point attempts. He also turned the ball over five times.
"I can be better," Young said following Game 2. "I didn't shoot the ball really well. I had some turnovers where I was just driving and it just left my hands, but I'm going to be better at home."
Thus far the most productive guard in the series has been Boston's Derrick White, who has scored 50 points in the two games. Among Boston players, only Jayson Tatum has scored more (54).
"We're just so much more of a dynamic team when (White) is asserting himself and being aggressive," Tatum said after Game 2. "We've talked about him being too passive and looking for guys too much. He's like too good of a guy. These last few games, being aggressive, making the right play, attacking the rim (and) not necessarily waiting just makes us that much better of a team."
White scored 14 of Boston's 29 points in the fourth quarter of Game 2. He finished that game with 26 points, seven rebounds and three blocked shots. The late Reggie Lewis is the only other Celtics guard to have at least 25 points and three blocks in a playoff game, doing so in 1992
White has given the Celtics a reliable third scoring option in the series, behind Tatum and Jaylen Brown
"(Tatum and Brown) get a lot of attention," White said. "It just opens up the court for myself. When the opportunity is there I just have to attack and do what I do."
Game 4 in the series will be played Sunday in Atlanta. If the Hawks avoid the four-game sweep, the series will return to Boston for Game 5 on Tuesday
"I think we've touched on some things that we need to continue to do, just do it for longer," Atlanta coach Quin Snyder said.
The Hawks averaged 118.7 points per game during the regular season, but have been limited to 205 points in their two playoff games. Atlanta has shot 40.7 percent from the field in those two games against Boston's defense
"We've been a group that's hung our hat on defense all year," Brown said. "We play both sides of the ball and we do it at a high level. Sometimes it goes unnoticed ... but when it comes down to it, the playoffs -- that's where our defense matters the most."
--Field Level Media