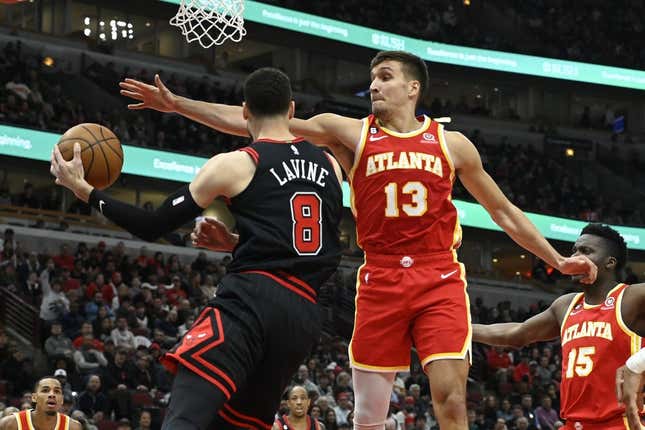 Bogdan Bogdanovic scored 26 points and Clint Capela had 13 points and 14 rebounds as the short-handed Atlanta Hawks defeated the host Chicago Bulls 123-105 on Tuesday night in a game key to Eastern Conference play-in tournament positioning
'Soccer fandom is full of gatekeepers' says Ted Lasso actor Brendan Hunt
Atlanta improved to 40-39 to climb over the .500 mark for the first time since March 10. The Hawks moved into a tie with Toronto, but because they hold the tiebreaker over the Raptors, effectively took possession of eighth place in the East with three games remaining in the regular season
The Bulls (38-41) lost for the third time in five games but clinched a spot in the play-in when Orlando lost to visiting Cleveland earlier Tuesday. Chicago is in 10th place in the conference
Atlanta already had ruled out De'Andre Hunter for the third straight game due to a bone bruise and muscle strain in his left knee. On Tuesday afternoon, however, the team announced point guard and leading scorer Trae Young would miss the game with a non-COVID illness.
Bogdanovic got the start in Young's place.
Dejounte Murray had 17 points and nine assists for Atlanta. Saddiq Bey (18 points), Jalen Johnson (16) and Onyeka Okongwu (11) also scored in double figures.
Chicago fell behind 13-2 in the first quarter and trailed by as many as 20 in the contest. Zach LaVine led the Bulls with 26 points to spark a balanced attack. DeMar DeRozan followed with 21 points and Nikola Vucevic had 19 points and 10 rebounds. Patrick Williams (15 points) and Patrick Beverley (11) were next
The Hawks earned a split of the season series, with Atlanta and Chicago winning two games apiece. Two of the first three meetings between the teams were decided by buzzer-beaters. The teams hadn't met since Jan. 23
Atlanta shot 55.6 percent from the floor in the first half to take a 65-53 lead into the break. Bogdanovic led the Hawks with 16 points before intermission, while Johnson (12 points) and Bey (11) followed
LaVine paced the Bulls with 15 first-half points and Vucevic added 10
--Field Level Media