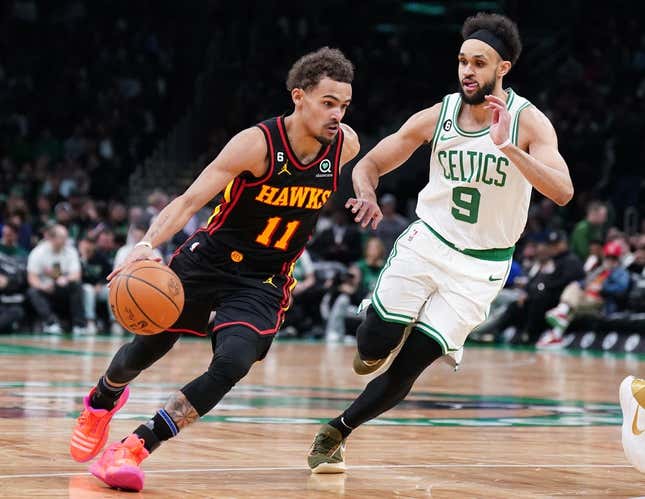 The Atlanta Hawks will be looking for another big game from guard Trae Young when they attempt to pull even in their Eastern Conference playoff series with the visiting Boston Celtics by winning Game 4 on Sunday night
Air Jordans are more American than McDonald's French fries | Deon Cole's Ultimate Sports Fantasy
After losing the first two games of the series in Boston, the Hawks received a game-high 32 points from Young in a 130-122 victory Friday night. Young made 12 of his 22 shots from the floor and finished the game with nine assists and six rebounds
It was by far his best game of the series. Young shot 14-for-40 from the field during Games 1 and 2 in Boston.
"I know I can play like this," Young said. "Like I said last game, I wasn't worried. I knew I could play the way I need to. It's all about reading and making the right adjustments."
Friday's victory was the first time the Hawks have beaten the Celtics this season. In addition to winning the first two games in the series, Boston won all three regular-season matchups
Atlanta's Dejounte Murray scored 25 points in Game 3, and, like Young, was at his best in the fourth quarter, when the Celtics were threatening to take a 3-0 series lead. Young (15) and Murray (seven) scored 22 of Atlanta's 30 points in the final 12 minutes
"It's supposed to be the guards (who) are supposed to be able to control the games, and we consider ourselves two pretty good guards," Young said. "We've got to be able to control the games when we have leads."
Boston guard Marcus Smart said the Celtics will have to be more physical to prevail in Game 4. Atlanta outscored Boston 54-40 in the paint Friday night and had a 48-29 edge in rebounding. The Hawks had 11 offensive rebounds
"There's nothing tactical about it," Smart said. "It's just a matter of will. And they wanted it more (Friday night). They go every night. We've gotta be able to stop that. Like I said, they're getting second-chance shots, they get to feeling good."
Seven Atlanta players scored in double figures in Game 3, when the Hawks scored their most points in a playoff game since a 137-125 victory over Detroit in 1986
Jayson Tatum led the Celtics with 29 points in the Game 3 loss. He had 10 of Boston's 29 rebounds
"I didn't think we were gonna win every game in the playoffs," Tatum said. "They played well (Friday night). We come back, get some rest, watch film, learn from it, and I'm extremely motivated and confident that we're going to play better next game."
One positive for Boston in the loss was the contribution the team received from Grant Williams, who didn't play in the first two playoff games. Williams came off the bench Friday and made each of his four field goal attempts -- all 3-pointers. He finished with 14 points.
"One of the strengths of our team this year is, regardless of (the situation), guys are always ready to play," Boston coach Joe Mazzulla said. "So, it says a lot about him being ready to play, and I think things like that help a team in a playoff run."
--Field Level Media