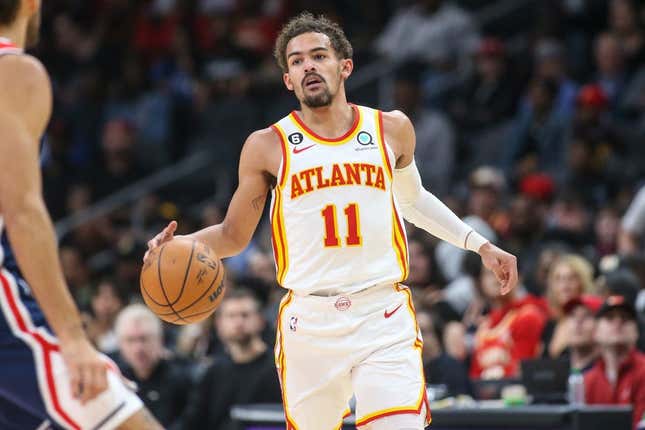 Trae Young led six double-figure scorers with 25 points as the Atlanta Hawks cruised to a 134-116 win over the visiting Washington Wizards
Bass' ERA stinks, but not compared to who he is off the mound | Worst of the Week Countdown
Atlanta (41-39) went on a 10-2 run in the second quarter to take a lead it never relinquished. The advantage grew to as many as 21 points in the fourth quarter thanks to a combination of the Hawks' balanced offense and effective defense
Washington (34-46) shot just 6-for-28 from 3-point range and was 45 of 94 from the floor overall, while Atlanta responded by shooting 43-for-84 from the field and 13-for-30 from beyond the arc.
AJ Griffin came off the bench to knock down 4 of 6 shot attempts from deep, matching a career high on his way to 16 points. Fellow Hawks reserve Jalen Johnson added 16 points on 7-of-11 shooting and grabbed eight rebounds
Atlanta also got 23 points on 6-of-8 shooting from John Collins, 19 points and seven rebounds from Dejounte Murray and 10 points from Saddiq Bey.
Young, meanwhile, recorded a double-double, complementing his scoring total -- which featured 16 points from free throws -- with a game-high 16 assists.
Young's free-throw shooting led the Hawks to a collective 35-for-40 effort at the charity stripe, including a perfect 8-for-8 by Collins. The Wizards finished 20-for-26 at the foul line
Daniel Gafford matched Young's game high in scoring with 25 points on 8-of-10 shooting from the floor. He also made all nine of his free-throw attempts and grabbed 10 rebounds for a double-double, his 10th of the season.
Johnny Davis matched the career high he set on Tuesday with 20 points against Atlanta. Corey Kispert added 12 points, while Kendrick Nunn led a trio of reserves in double figures with 15 points.
Jay Huff added 14 points, and Quenton Jackson went for 10 off the bench in the loss, Washington's fourth straight and fifth in the last six games.
The Hawks held a 67-60 edge at the break before opening things up with a 39-point third quarter to go into the fourth with a 16-point lead. Collins tallied 12 points in the third, while Gafford scored 15 -- half of his team's points in the period
--Field Level Media