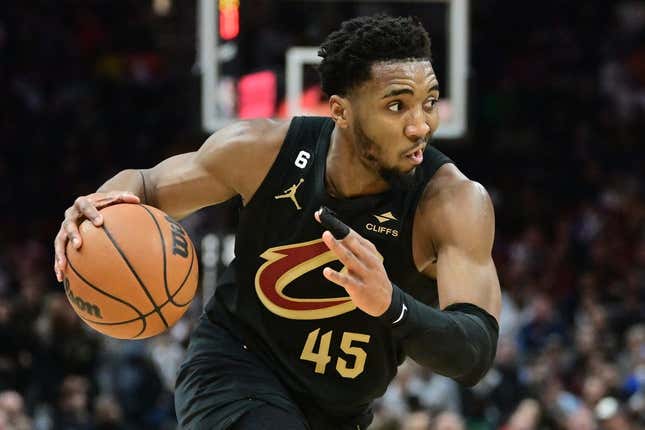 Donovan Mitchell damages every opponent, but the Miami Heat has largely escaped his wrath.
How running an NFL team is like running a restaurant | Chef Emeril Lagasse
For his career, the Cleveland Cavaliers' four-time All-Star guard is averaging more than 20 points against every NBA team.
On Wednesday night, when Miami hosts Cleveland, Mitchell will take aim once again. In 12 career games against Miami, Mitchell is averaging 21.8 points.
That's not a low number, but it is below Mitchell's career scoring average of 24.4 points.
Mitchell's career shooting percentages against the Heat are also below his norms as Miami has held him to 42.6 percent from the field, 27.8 on 3-pointers and 70.7 on free throws.
His career numbers in those categories are 44.6 percent from the field, 36.5 on 3-pointers and 84.0 from the foul line.
Miami and Cleveland have met twice this season, splitting those games as Mitchell was held to 13 and 16 points, respectively.
In contrast, Mitchell is coming off a 40-point effort Monday as he led Cleveland to a 118-114 overtime win over the Boston Celtics.
"Donovan is a guy who shines brightest when we need him the most," Cavaliers coach J.B. Bickerstaff said.
Mitchell, who is averaging 27.6 points this season, is one of four Cavaliers who has started more than 55 games this season. The others are Darius Garland, Evan Mobley and Jarrett Allen.
Garland is averaging 21.9 points and a team-high 7.9 assists. He had 12 assists Monday.
Mobley is averaging 16.0 points and 9.1 rebounds. Allen is averaging 14.5 points and a team-high 9.7 rebounds.
Mobley and Allen also offer stellar rim protection, combining to average 2.6 blocks per game. Mobley had 25 points, 17 rebounds and three blocks on Monday.
Miami, meanwhile, is coming off two straight wins against the Atlanta Hawks. Miami held Hawks superstar guard Trae Young to an average of 16.5 points in those games -- well below his season norm of 26.6.
In Monday's 130-128 win, the Heat got a season-high 59 bench points. Miami's bench brigade was led by Victor Oladipo (22 points), Caleb Martin (21) and Duncan Robinson (14).
"We grinded it out," Martin said. "That's what we do."
Those three players did more than grind. They also showed a high degree of skill, combining to shoot 16-for-26 from the floor, including 9-for-13 on 3-pointers.
But with Cleveland's core four of Mitchell, Garland, Mobley and Allen, Miami's stars will be on high alert.
Miami has three elite scorers in Jimmy Butler (21.9), Bam Adebayo (21.2) and Tyler Herro (20.3). Adebayo leads Miami in rebounds (9.7), and Butler tops the Heat in steals (1.9).
The Heat played Monday without two starters -- power forward Kevin Love and point guard Kyle Lowry. Love is day-to-day due to a rib injury. Lowry, who has a knee injury, hasn't played since Feb. 2.
What's left is a Heat group that plays a lot of tight games, including Monday's two-point victory.
"It gets my stomach twisting and turning," coach Erik Spoelstra said. "But our guys love it -- they're competitors."
--Field Level Media