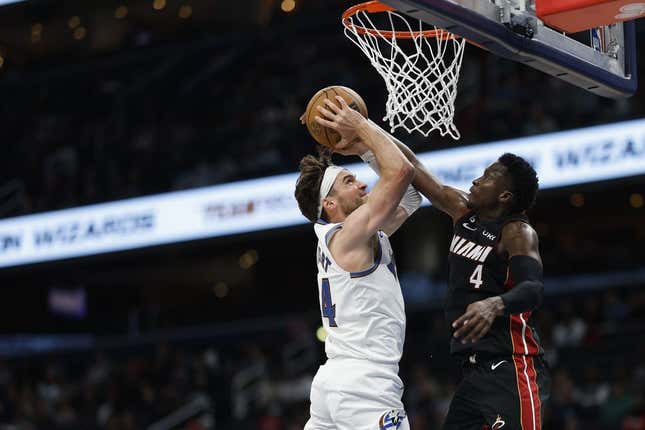 The Miami Heat are not expected to play their five biggest names on Sunday afternoon when they close out the regular season against the visiting Orlando Magic
Aaron Rodgers should go full Joe Namath | Comedian Bert Kreischer
Miami (43-38) sat all five of those players -- Jimmy Butler, Bam Adebayo, Tyler Herro, Kevin Love and Kyle Lowry -- on Friday night in a 114-108 loss at the Washington Wizards.
The Heat are locked into the seventh seed in the Eastern Conference, which means Miami will be in the play-in round for the first time. The Heat will host that play-in game against the Atlanta Hawks on Tuesday
Heat coach Erik Spoelstra said the play-in round is not what his team had in mind when the season started
"But this is our reality, and we have to embrace it," Spoelstra said. "It's great competition with a lot at stake.
"We're a dangerous team. We're finding our health."
Still, Sunday's game against the out-of-contention Magic (34-47) will be largely irrelevant
Perhaps the most significant aspect of the game for Miami is that it will mark the end of Udonis Haslem's 20-year Heat career. Born and raised in Miami, Haslem never played a game with any other NBA franchise. He is the longest-tenured player in Heat history
Aside from the Haslem celebration, the Heat -- minus their "Big Five" -- will rely on players such as Victor Oladipo and Cody Zeller
Oladipo scored a season-high 30 points on Friday, while Zeller added 17 points and five rebounds.
"We're looking at the bigger picture of what's coming," Zeller said. "We have to be ready whenever our numbers are called."
Meanwhile, the Magic will enter Sunday on a three-game losing streak
This will be Orlando's third straight season without making the playoffs. However, the Magic have already improved by 12 wins over last season
In addition, the Magic were competitive down the stretch, going 5-4 in their past nine games with two wins over playoff teams during that stretch, beating the New York Knicks and the Brooklyn Nets
Orlando is fueled on most nights by 6-foot-10, 250-pound power forward Paolo Banchero, who is the leading candidate for NBA Rookie of the Year. He leads the Magic in scoring (20.0 points per game) and has averaged 6.9 rebounds
Even rival coach Dwane Casey of the Detroit Pistons has become a Banchero advocate.
"Paolo has separated himself (for Rookie of the Year)," Casey said. "He's been consistent from Day One."
However, Banchero has been rested the past two games due to a back injury. He is questionable to play in Sunday's game.
Wendell Carter Jr., who averages 15.5 points and 8.8 rebounds per game, also sat out the Magic's 101-84 loss to the Brooklyn Nets on Friday due to a hip injury
Gary Harris, who has started 42 games this season and is averaging 8.3 points, sat out due to an abductor injury.
With all the injuries, the Magic are relying mainly on youthful forward Franz Wagner and young guards Markelle Fultz, Cole Anthony and Jalen Suggs
Orlando coach Jamahl Mosley said there is value in the regular-season finale.
"There's always something to play for when you're with a young group," Mosley said. "That is teaching winning habits. Teaching how to play meaningful basketball this time of year. It's not a light switch you can turn on and off."
Miami holds a 2-1 edge in wins in the season series, but two of the games have gone to overtime. In fact, Orlando won the most recent matchup, 126-114, in OT on March 11.
--Field Level Media