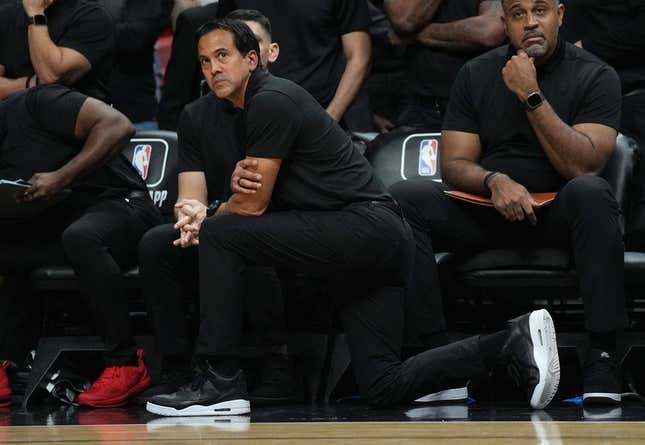 The Miami Heat got off to a woeful start on Saturday night, and it cost them.
They'll look for a better beginning -- and desired result -- when they visit the Detroit Pistons on Sunday evening.
How running an NFL team is like running a restaurant | Chef Emeril Lagasse
The Heat trailed Chicago 70-45 at halftime Saturday and wound up losing 113-99. Miami pulled within three points during the fourth quarter but couldn't sustain the rally.
"We looked like two different teams from the first half to the second half," Heat coach Erik Spoelstra said. "Way more active, our disposition was better. It was more like we were playing on our heels and passively in the first half. Then they got into a great groove. They didn't really feel us in the first half. Some shots they might not normally make, the basket just got bigger and bigger."
Miami (38-34) was coming off a pair of home wins against Utah and Memphis. Against the Bulls, Chicago shot 56.3 percent from the field and made half of its 34 3-point attempts, while the Heat shot 42.7 percent and made only 27 percent of its 3-point attempts.
"We're capable of being much better defensively, and that will happen tomorrow," Spoelstra said, adding, "We've got to move on. We've got to get focused on a very important game tomorrow."
The Heat should have Kyle Lowry back in the rotation on Sunday. Lowry, who has battled knee soreness much of the season, sat out Saturday's contest. Miami is in seventh place in the Eastern Conference, two games out of the sixth and final guaranteed playoff spot.
"This is what we planned on during the week, and we're sticking with the plan," Spoelstra said. "(Sunday) is when we deemed his next work day."
The Pistons (16-55) have lost 13 of their last 14 games. Saddled with a bevy of injuries, coach Dwane Casey has been experimenting with the players he has available as his team owns the worst record in the league.
Casey played centers James Wiseman and Jalen Duren together for a time during a 119-100 loss to Denver on Thursday night.
Duren, a rookie, fed Wiseman for a pair of dunks.
"I think he's progressed really well throughout the season, even as a passer," fellow rookie Jaden Ivey said of Duren. "He's reading the low man, making the right reads to James, he's making the kickouts. That's something you need as a big, being able to read that low-man defender if he's committing to the big and find those outside shooters. I think he's done a great job of that."
However, the Pistons didn't do a great job overall after taking a six-point halftime advantage against the Western Conference-leading Nuggets. Detroit was outscored 61-36 in the second half.
"It was an opportunity to experiment with it," Casey said of the big lineup. "Our spacing's got to be better. I thought we couldn't generate offense in that stretch. Have to find some ways to make sure we keep the scoreboard moving with those two bigs in there."
With a much different group on the court, the Pistons defeated the Heat 116-96 in Miami on Dec. 6. Bojan Bogdanovic, who hasn't played since March 1 due to Achilles soreness, led Detroit that night with 31 points.
Forward Marvin Bagley III could return to action on Sunday after missing the last three games due to right ankle soreness.
--Field Level Media