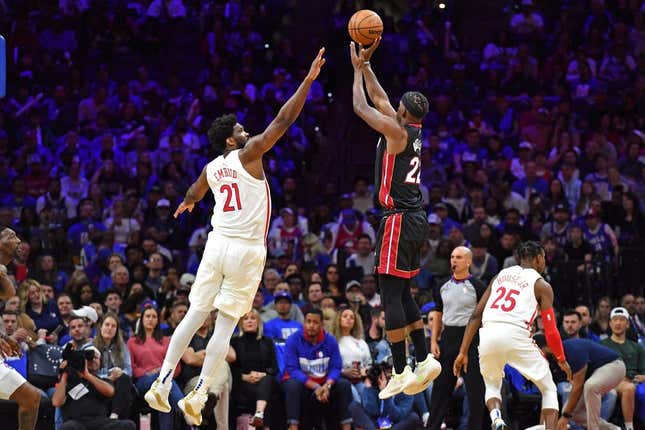 The Miami Heat have plenty to play for as they head into the penultimate game of their season, a Friday clash against the host Washington Wizards
Will South Beach Flu give the Heat home court advantage? | Keep it a Buck(et)
The Heat (43-37) posted a convincing 129-101 road victory over the Philadelphia 76ers on Thursday to move within one game of the Brooklyn Nets (44-36) for the sixth and final automatic playoff berth in the Eastern Conference
The Nets hold the tiebreaker with Miami, so the Heat would need to win both of their remaining games and have Brooklyn lose both of its home contests to avoid the play-in tournament
"Every game matters still," Miami's Max Strus said, per the South Florida Sun Sentinel. "We got to play until the end of the season with the position we're in. Can't take any games lightly."
The Heat certainly didn't take Thursday's game lightly, especially Tyler Herro. Last season's NBA Sixth Man of the Year drained five 3-pointers to highlight his 24-point performance
"It sets us up for the playoffs and builds momentum," Herro said. "I feel like we're trending in the right direction on both ends of the floor and going in the right direction heading into the playoffs."
Miami's Jimmy Butler also finished with 24 points on Thursday while receiving the benefit of sitting out the fourth quarter.
Washington (34-46) enters the penultimate game of its season having lost four in a row, including a 134-116 setback to the host Atlanta Hawks on Wednesday.
The short-handed Wizards already ruled out stars Bradley Beal (left knee soreness), Kristaps Porzingis (non-COVID illness) and Kyle Kuzma (right ankle sprain) as well as key contributors Monte Morris (right ankle soreness) and Deni Avdija (left elbow bursitis) for the Friday game
Washington's Daniel Gafford made 8 of 10 shots from the floor and all nine attempts from the foul line to record a career-high 25 points at Atlanta. He also had a team-high 10 rebounds for his 10th double-double of the season.
"My confidence level, I feel like it actually has grown throughout this season," Gafford said. "I've kind of showed spurts of just being poised in my game and just showing some of the things I've worked on in the offseason."
Jay Huff followed up his career-high 17-point performance in Washington's 140-128 loss to the Milwaukee Bucks on Tuesday with 14 points vs. the Hawks.
Rookie Johnny Davis, a first-round pick, posted his second straight 20-point performance on Wednesday, matching his career best. He also had seven rebounds, three assists, two steals and two blocks while making his third consecutive start.
Davis admitted that he now feels acclimated to the NBA game.
"The G League obviously helped with that a lot, but going from Wisconsin and the Big Ten Conference, which is known for being a slow-paced conference in style of play, it was definitely a little bit harder to adjust for me than it was for other players," Davis told NBC Sports Washington. "But I feel like I'm there, it just took a little bit of time."
--Field Level Media