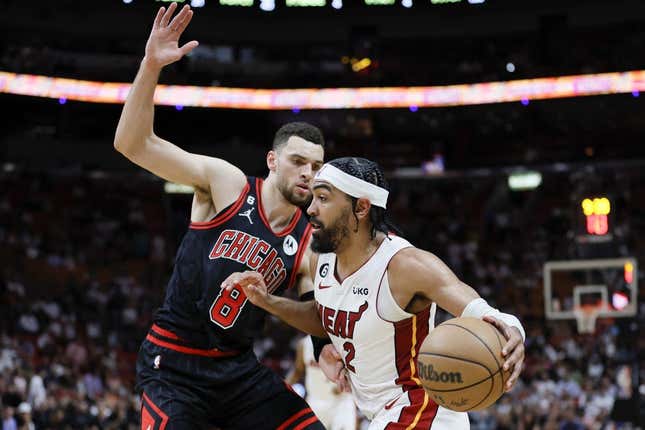 Jimmy Butler and Max Strus scored 31 points apiece and the Miami Heat gained the final Eastern Conference playoff spot with a 102-91 victory over the visiting Chicago Bulls on Friday night in a play-in game
'Soccer fandom is full of gatekeepers' says Ted Lasso actor Brendan Hunt
Butler scored 22 points in the second half and Strus had 23 in the first. Strus made six 3-pointers in the first half and seven overall for the Heat, which concluded the contest with a 15-1 surge
Miami will be the No. 8 seed in the East and will face the top-seeded Milwaukee Bucks in the first round. The series starts Sunday in Milwaukee.
DeMar DeRozan had 26 points and nine assists for Chicago, which went 3-0 against the Heat in the regular season. Alex Caruso scored 16 points, Zach LaVine had just 15 on 6-of-21 shooting, Coby White tallied 14 points and Nikola Vucevic registered 12 points and nine rebounds for the Bulls
Miami's Bam Adebayo collected 17 rebounds while Tyler Herro added 12 points, eight rebounds and seven assists.
The Heat made just 41 percent of their shots and were 10 of 30 from behind the arc
Chicago shot 43.9 percent from the field, including 8 of 28 from 3-point range.
White's 3-pointer gave the Bulls a 90-87 lead with 3:47 left before the Heat went on the dynamic game-ending run. First, Miami got baskets from Herro and Butler and two free throws by Adebayo to take a 93-90 edge with 1:41 to play
After DeRozan split two free throws, Strus buried a 3-pointer with 1:14 left to give the Heat a five-point lead. Strus was fouled by Caruso while shooting a trey with 40.7 seconds remaining and made all three free throws to make it 99-91 as Miami closed it out
Butler scored the first five points of the third quarter to give the Heat a 54-44 advantage
Chicago answered with a 16-4 surge. LaVine capped it with a thunderous dunk to give the Bulls a 60-58 lead with 5:53 remaining in the period for the team's first lead since 2-0
Miami responded with seven straight points, culminated by Kevin Love's trey with 2:42 left to take a five-point lead.
Chicago scored eight of the final 10 points, with DeRozan converting a three-point play with 13.2 seconds left as the Bulls led 68-67 entering the final stanza
Another three-point play by DeRozan gave Chicago a 76-72 lead with 9:51 remaining. Just 84 seconds later, he converted another three-point play to give the Bulls an 81-75 advantage
A short time later, Butler scored seven points and fed Strus for the tying basket as a 9-3 run allowed the Heat to knot the score at 85 with 5:01 left
--Field Level Media