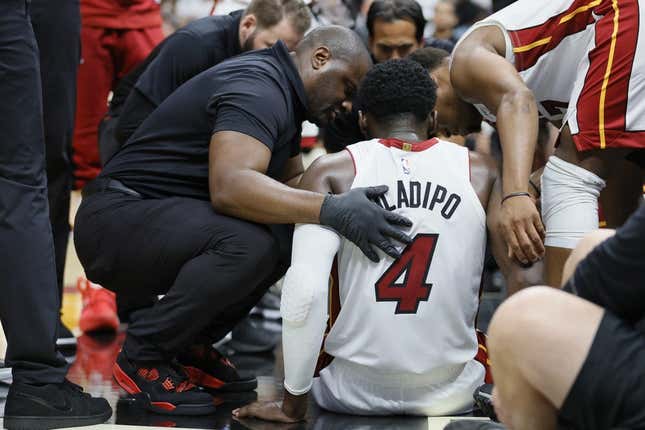 Miami Heat guard Victor Oladipo suffered a torn patellar tendon in his left knee on Saturday and is done for the remainder of the playoffs
How running an NFL team is like running a restaurant | Chef Emeril Lagasse
The team announced Sunday that an MRI exam confirmed the diagnosis. The Heat did not indicate how the torn tendon would impact his 2023-24 season
The injury occurred in the fourth quarter of the Heat's 121-99 win over the Milwaukee Bucks in their Eastern Conference first-round series. He drove to the basket, collapsed to the floor and grabbed his left knee. He was helped off the court
After the game, coach Erik Spoelstra knew it was serious without the benefit of medical testing, and it's the latest blow for Oladipo, who has fought through injuries the past four seasons.
"It was a great win, but when you see a player go down like that and particularly a player like Vic, who has gone through so much in the last three years -- I don't know what it is right now, so I don't want to jump the gun on anything," Spoelstra said. "But that's definitely not a good feeling to see."
Oladipo, who turns 31 next month, was the No. 2 overall pick in the 2013 NBA Draft by the Orlando Magic. He played with the Magic and Oklahoma City Thunder until he was traded in July 2017 as part of the deal that sent Paul George from the Indiana Pacers to the Thunder.
He became a two-time All-Star in Indiana before suffering a ruptured quad tendon in his right knee in January 2019 that required a lengthy recovery and eventually a second surgery. Over the next three seasons, he was limited to 60 total games.
He has not played more than 60 games in a season since 2017-18. His high since then came this season with 42 for the Heat, who signed him to a two-year. $18.2 million that includes a $9.45 million player option for next season
With the Heat in 2022-23, Oladipo has averages of 10.7 points, 3.5 assists and 3.0 rebounds. His career averages in 504 games (397 starts) are 16.9 points, 4.5 rebounds and 3.9 assists
He had eight points on 4-of-6 shooting before the injury on Saturday.
The Heat have a 2-1 series lead over the top-seeded Milwaukee Bucks, who were without superstar Giannis Antetokounmpo, who missed the past two games with a back injury. But with Oladipo's injury, the Heat find themselves shorthanded at guard
Tyler Herro broke his right hand in the first game of the series. Veteran Kyle Lowry stepped up Saturday night to score 15 points in 28 minutes.
Game 4 is set for Monday night in Miami.
--Field Level Media