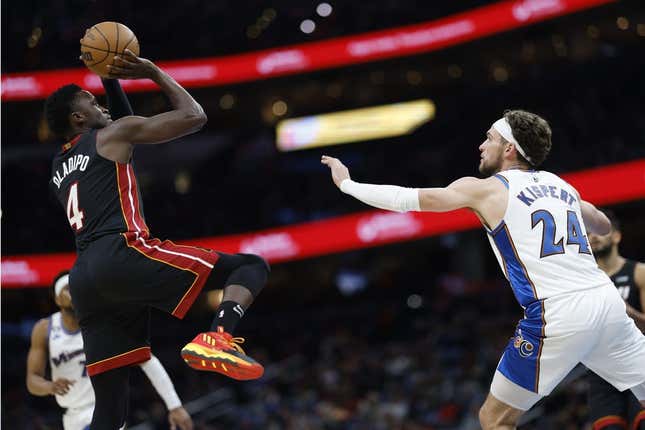 Daniel Gafford collected 22 points and eight rebounds to lift the host Washington Wizards to a 114-108 victory over the Miami Heat on Friday
Chris Paul should ride the bench next season | Keep it a Buck(et)
Gafford made his first nine shots from the floor for the Wizards (35-46), who snapped a four-game losing skid and locked the Heat (43-38) into seventh place in the Eastern Conference and a spot in the play-in tournament
Corey Kispert scored 19 points and rookie Johnny Davis added 16 to help Washington overcome the absences of Bradley Beal (left knee soreness), Kristaps Porzingis (non-COVID illness), Kyle Kuzma (right ankle sprain), Monte Morris (right ankle soreness) and Deni Avdija (left elbow bursitis).
The Wizards shot 46.4 percent from the floor (39 of 84) and made 78.4 percent of their free throws (29 of 37). Washington also held a 56-48 advantage on points in the paint
Miami's Victor Oladipo sank seven 3-pointers to highlight his 30-point performance off the bench. Cody Zeller made 8 of 10 shots from the floor and scored 17 points for the Heat, who played without six-time All-Star Jimmy Butler (right hand contusion), Tyler Herro (right quadriceps contusion), Kyle Lowry (left knee soreness), Bam Adebayo (left quadriceps strain) and Kevin Love (rib contusion)
The Wizards held a 53-51 lead at halftime before beginning the third quarter with a 31-10 surge. Kispert sank a pair of 3-pointers and Kendrick Nunn also converted from beyond the arc during that pivotal sequence
The Heat cut the deficit to 15 points before Davis sank a 3-pointer with three seconds left to stake Washington to an 89-71 lead at the end of the quarter
Oladipo drained consecutive 3-pointers to help Miami trim the gap to 107-98 with 1:59 remaining in the fourth quarter.
Kispert stopped the momentum with a pair of free throws, but Oladipo made a layup and a 3-pointer during a sequence in which the Heat closed within 111-105 with 31.1 seconds left. The Wizards sealed the win with a free throw from Quenton Jackson and an emphatic dunk by Jay Huff
--Field Level Media