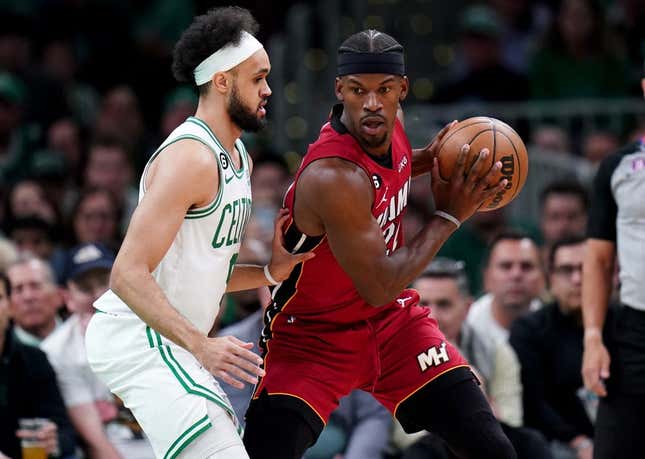 Jimmy Butler scored 27 points, including the tiebreaking basket with 2:33 remaining, and the Miami Heat took control of the Eastern Conference finals with a 111-105 victory over the host Boston Celtics in Game 2 on Friday night
Air Jordans are more American than McDonald's French fries | Deon Cole's Ultimate Sports Fantasy
Miami won in Boston for the second straight game to grab a 2-0 edge in the best-of-seven series. Games 3 and 4 will be played in Miami on Sunday and Tuesday, respectively.
Caleb Martin established a career playoff high with 25 points on 11-of-16 shooting off the bench for the eighth-seeded Heat. Miami's Bam Adebayo contributed 22 points, 16 rebounds and nine assists and reserve Duncan Robinson chipped in 15 points
Jayson Tatum had 34 points, 13 rebounds and eight assists for second-seeded Boston but didn't convert a field goal in the fourth quarter for the second straight game. All five of Tatum's final-quarter points came on free throws in the final minute.
Jaylen Brown scored 16 points but shot just 7 of 23 from the field for the Celtics. Malcolm Brogdon and Robert Williams III had 13 points apiece
The Heat connected on 45.7 percent of their shots and were 9 of 26 (34.6 percent) from behind the 3-point arc. Max Strus added 11 points for Miami
Boston shot 46.8 percent from the field, including 10 of 35 (28.6 percent) from 3-point range. Derrick White had 11 points for the Celtics
Robert Williams' dunk gave Boston a game-high, 12-point lead with 10:35 remaining in the contest.
Robinson responded with two 3-pointers during Miami's ensuing 10-2 spurt to cut the Celtics' lead to 91-87 with 8:40 left
After Boston pushed its lead back to nine, the Heat scored nine of the next 11 points as part of an 18-4 run. Robinson's layup pulled Miami within 98-96 with 4:36 to play before Grant Williams scored on a dunk with 3:52 left for the Celtics
Adebayo made two free throws and Butler added consecutive baskets, including the go-ahead hoop as Miami went up by two. Strus split two free throws and Adebayo slammed home a rim-rattling dunk to make it 105-100 with 55 seconds remaining.
Tatum scored his first points of the fourth quarter by making three free throws with 49.3 seconds left. Gabe Vincent knocked down a jumper with 35.1 seconds left to give the Heat a 107-103 edge
After Tatum made two free throws with 21.6 seconds to go, Vincent and Strus each made two free throws to seal it for the Heat
Tatum scored 15 points in the third quarter as Boston turned a four-point halftime deficit into an 83-75 lead. The Celtics outscored the Heat 33-21 during the period
Martin had 14 points before halftime as the Heat held a 54-50 edge. Tatum scored 14 in the half for Boston
--Field Level Media