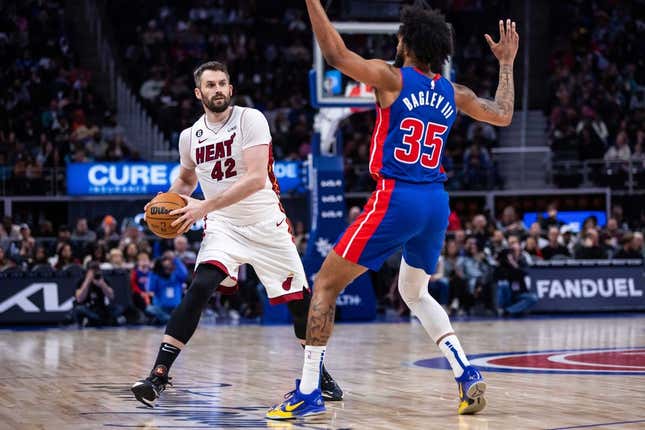 The Miami Heat feel like they're already preparing for playoff games, and their rotation reflects it
Will South Beach Flu give the Heat home court advantage? | Keep it a Buck(et)
Head coach Erik Spoelstra changed the lineup ahead of Saturday's 129-122 victory over Dallas, snapping Miami's three-game losing streak. The Heat (41-37) have four games remaining, beginning with Tuesday's game at floundering Detroit at the front end of a three-game road trip
Miami sits in the seventh spot in the Eastern Conference, the top spot in the four-team play-in tournament. The Heat would prefer to pass Brooklyn and snag the sixth spot, which would allow them to avoid the tournament. Miami trails the Nets by two games
Spoelstra went with a three-guard lineup against the Mavericks, which included Gabe Vincent, Tyler Herro and Max Strus. Power forward Kevin Love was moved to the second unit.
"Kevin, I just can't say enough about his professionalism," Spoelstra said. "We went with a different starting lineup and that might be the way we go for the next four games. These are playoff games for us. We'll just do whatever is necessary, but he totally gets it."
Using an eight-man rotation, not counting Duncan Robinson and his two-minute stint, Miami shot 52.3 percent from the field and committed only 11 turnovers.
Love, who came off the bench frequently with Cleveland before the Cavaliers bought out his contract and waived him, played 19 effective minutes. He contributed 18 points and five rebounds.
Love made two of his five 3-point attempts and seemed more relaxed in a backup role.
"Naturally coming here, I wanted to help make these guys' lives a lot easier, in particular our leading scorers which are Jimmy (Butler), Bam (Adebayo) and Tyler," Love said. "So I think pressing, really wanting to do what's best for the team is there and the intent is there. Naturally, you want to make shots from the outside. But (Saturday) I felt like myself.
"I was getting into the paint, there was an offensive rebound there, there was some aggressiveness," he added. "I just felt more like myself, like I was shooting the shots that were there for me and I wasn't pressing as much."
Butler had 35 points and 12 assists, while Adebayo sat out due to a hip injury.
Miami visited Detroit on March 19 and collected a 112-100 victory with Butler scoring a team-best 26 points and dishing out 10 assists.
The Pistons (16-62) have dropped nine straight and 23 of their past 25 games. They trailed virtually the entire way in their last outing, a 128-102 loss at Orlando on Sunday. The Magic pulled away by outscoring the Pistons 29-15 in the second quarter
"This entire game, I don't think our focus, our lock in, was there with (five) games to go, we weren't as sharp as we needed to be," coach Dwane Casey said. "We can't lose that focus because right now is 'experience time' for everybody. It wasn't just one guy; it was everybody who went into the game. It started in the second quarter and it continued.
"These last four games are about focus and lock in -- win, lose or draw -- and executing what you're supposed to do defensively and offensively."
--Field Level Media