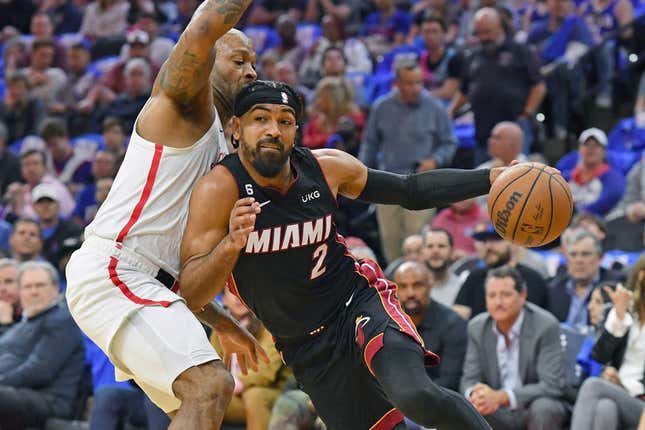 Jimmy Butler and Tyler Herro each racked up 24 points, and the Miami Heat pulled away late in the first quarter and never looked back in a 129-101 rout of the host Philadelphia 76ers on Thursday night
Bass' ERA stinks, but not compared to who he is off the mound | Worst of the Week Countdown
Butler made 9 of 12 field-goal attempts and finished with six assists for the Heat (43-37), who picked up their third straight win as they continue to push for a guaranteed playoff spot. Herro went 7-for-17 from the floor but did most of his damage from long range, draining five 3-pointers
Bam Adebayo supplied 14 points and eight rebounds, while Max Strus also had 14 points as Miami connected on 18 of its 39 shot attempts from beyond the arc.
Following his 52-point performance against the Celtics on Tuesday, Philadelphia's Joel Embiid picked up right where he left off, scoring 12 points in the first quarter. However, Miami shot a blistering 68.2 percent from the field in the period and went into the second up 41-31.
Philadelphia (52-28) couldn't pull within single digits the rest of the way.
Embiid paced the Sixers with 21 points, six rebounds and two blocks, while James Harden finished with 14 points, four rebounds and four assists.
Miami blew the game open in the second quarter, opening the frame on 9-2 run to take a 17-point lead. The Heat later drained three treys during a 13-2 spurt just before intermission, helping them head into the break with a 67-46 cushion
Herro led all first-half scorers with 16 points, while Embiid had 15 for Philadelphia.
The 76ers were hampered by lackadaisical play in the first half, committing eight turnovers that led to 17 Miami points. The Heat gave the ball away just twice
Philadelphia showed some life late in the third quarter, putting together a 7-0 run following a timeout to pull within 13. But a pair of 3-pointers from Strus sandwiched around a Georges Niang jumper kept the 76ers at bay
Sixers guard Tyrese Maxey did not play due to neck stiffness.
--Field Level Media