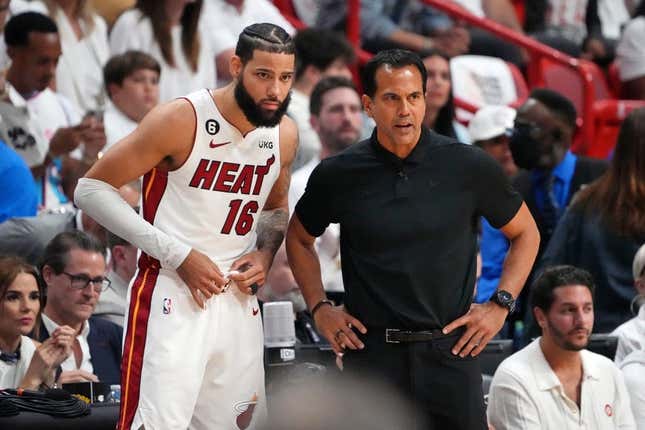 Miami Heat coach Erik Spoelstra isn't hanging his head after seeing his team lose both of its home games in the NBA Finals
Is Texas or Florida State a bigger national title contender? | Agree to Disagree
Although the Heat are facing elimination as they head to Denver to play Game 5 on Monday, Spoelstra remained confident that his charges would extend the series to Game 6 back in Miami
"All we're focused on -- I told the guys, feel whatever you want to feel tonight. It's fine. You probably shouldn't sleep tonight any amount of time. I don't think anybody will," Spoelstra said following the Heat's 108-95 setback on Friday
"We have an incredibly competitive group. We've done everything the hard way, and that's the way it's going to have to be done right now, again. All we are going to focus on is getting this thing back to the 305. Get this thing back to Miami. And things can shift very quickly."
The Heat know that all too well, especially since they saw their 3-0 lead over the Boston Celtics in the Eastern Conference final go by the boards. They righted the ship by winning Game 7, however
"You take it one game at a time," Heat center Bam Adebayo said. "We've seen a team come back from 3-0 firsthand. So we just have to believe, and one game at a time.
Jimmy Butler had 25 points, seven rebounds and seven assists, and Adebayo amassed 20 points and 11 rebounds for the Heat. Kyle Lowry scored 13 points while Kevin Love and Duncan Robinson added 12 apiece for Miami
The Heat are still holding out hope that they can become the second team to recover from a 3-1 deficit in the NBA Finals. The Cleveland Cavaliers rallied to beat the Golden State Warriors in the 2016 Finals
"It's the same thing that it's always been -- it's a game at a time," Butler said. "Now we're in a must-win situation every game, which we're capable of. We've got to correct some things, but it's not impossible. We got three to get."
--Field Level Media