"Dark Side of the Locker Room" is a compendium of journalists' bizarre, amusing and previously undocumented encounters with athletes (and often athletes' genitalia). Got a story? Send it to darkside@deadspin.com.
The best sports movies according to Toheeb Jimoh
Today's story is from a longtime member of the Indianapolis sports media. He wishes to remain anonymous.
It was winter, and I was a reporter covering the Pacers for a media outlet in Indy. Ron Artest had just made his another trade demand from the organization — his last, as it turned out. I wanted to get one last comment from Ron-Ron before he blew town, which is how a co-worker and I eventually found ourselves in his spacious north suburban home, tiptoeing through a minefield of dog shit.
I'll say right here that I never had a problem with Ron. He was one of the most enigmatic personalities I've ever covered, and also the most engaging. I once saw him coloring his white shoes with blue marker (because he'd asked for blue shoes and didn't get them). He was known around town for meeting and befriending high school kids, then showing up unannounced at their high schools to practice with their team. He'd take children to lunch. He could be remarkably honest and genuine, and, at least on this day in suburban Indianapolis, he had no problem letting a couple visiting reporters see how he lived. And how he lived then was both surreal and sort of sweet.
G/O Media may get a commission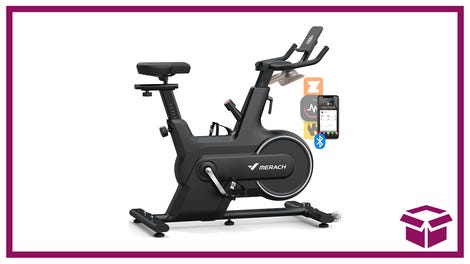 14% off + Coupon
Merach Indoor Cycling Bike
We'd met Artest outside his home. All around us were the beautiful, non-indigenous trees that he allegedly had shipped and planted. He had a private gate, and we weren't about to go TMZ on him and approach uninvited. Rather, we waited just off his driveway. Eventually, a late model Jeep Cherokee rolled up and about 15 dudes poured out. It was like a Barnum & Bailey act. How many guys can fit in one SUV? One of them identified himself (correctly) as Artest's younger brother; he went on to tell me (incorrectly) that he was averaging 41 a game for a local vocational school. We explained why we were there, and he agreed to go and get Ron for us.
That's when I saw Artest coming down the drive. It was about 10 degrees out, and Ron was wearing Pacers sweats, flip-flops, and a full-length mink that would've embarrassed Michael Irvin. After a few minutes, Artest invited us inside. He and his boys were about to head to his studio "to lay down some tracks." This was during his fledgling musical days, you'll recall.
I'll never forget what I saw inside. Instead of crown molding, there were empty Hennessy bottles glued to his wall. There was dog crap everywhere, and where there wasn't, there was either someone sleeping or evidence that someone had just slept there — a sleeping bag and pillow. There were guys all over the place. On the landing of the stairs. On the couch. Free-style rapping in the corner. (I can't help but wonder if one of his stairwell dwellers, transplanted to Los Angeles, was the "box" Artest tripped over last month.) I engaged one for a few minutes as Ron went to change clothes. I asked if all the guys were from the "QB," Queensbridge, the public housing development in New York where Artest grew up. The reply still sticks with me.
"Yeah," he said. "We all are. We all made a deal when we were young. If one of us made it out, we'd take the rest with us. Ron made it out."
It was all sort of touching. Ron made it out, and now here he was, with his full-length minks and his imported trees and his imported pals. Even the dog shit said something about the great distance he'd traveled from Queensbridge. Someone — I can't recall if it was Artest himself or one of his friends — saw me staring at the carpet; I probably looked horrified. Don't worry about it, he said. The carpet company comes in every month and lays new carpet.
Again, any sports journalist out there with a story to tell — print, online, broadcast — should send it along to darkside@deadspin.com. You know you've got a million of them.