Mike Piazza was elected to the Baseball Hall of Fame yesterday, so today seems like a good time to pay homage to one of baseball's finest dinger artists.
I have a vivid memory of watching the moonshot in the video above, which remains the longest homer ever hit at Coors Field. It's a fitting record for Piazza to have, because nobody wore out Rockies pitching quite like he did. I think my favorite thing about this one is the way Piazza seems to wince after he hits it, almost like he feels bad for what he did to that poor baseball.
Here's one that he donged right out of the frickin' stadium:
Here's another one that cleared the bleachers:
Lol this one doesn't even make sense:
G/O Media may get a commission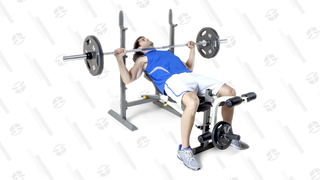 10% Off
Marcy Folding Weight Bench
Neither does this one:
Three nice dingers from the same game:
Here's his first career homer, a fitting one given what an opposite-field destroyer he was:
I mean this is just rude:
And if you're feeling sentimental, here's the post-9/11 homer Piazza hit, which was 1,000 times cooler than some dumb ceremonial pitch:
Mike Piazza: Hall of Famer and good, strong dinger man.