I wasn't on the internet last night, so my first exposure to the mess that happened over in the hockey blog corner of the internet was this apology letter. Here are the first two lines:

I am going to address the blog post from last night at The Puck Stops Here, which has been removed.

The title of the post was 'NHL Promoting Black Players With All-Star Selections' and it went downhill from there.
Oh no. Oh no.
So, Paul Kukla's a great guy and a great hockey blogger. His site, Kukla's Korner, also hosts a number of other blogs. One of those, The Puck Stops Here, written by an anonymous longtime blogger, published a typo-ridden post last night about the recently announced All-Star Game lineups.
That Puck Stops Here post has since been deleted. You can read the cached version here. Some excerpts, all [sic]:
The NHL appears to be preferentially selecting black players to the All Star Game rosters in order to be able to promote those players in an attempt to recruit black hockey fans. There are four black players who are on the All Star rosters in PK Subban, Kyle Okposo, Wayne Simmonds and Seth Jones. I argue that none of the four are playing well enough that they should be in the game based on their play so far this season.

PK Subban made the game due to the fan voting. He is the Central Division captain. Although there is some reason to be a bit skeptical of the NHL voting for All Star captains. It is not a very transparent process. At no point did the NHL announce actual vote totls for players. There is a clear possibility that they could fix the voting results.

[...]

Kyle Okposo is the Buffalo Sabres representative. I argeu that Rasmus Ristolainen is a better selection. If a defenceman has essentially the same point totals as a forward as Ristolainen and Okposo have, the defenceman is almost certainly having the better season. Okposo may have been selected because he is a black player and the NHL can use him to try to promote the game with a black audience.

[...]

I think that the fact the NHL seems to have preferentially added black players to the All Star rosters when none should have made the team on their own merits is suspicious. It is quite likely that they are being added in an attempt to market the game of NHL hockey to black fans. I find it hard to believe that Wayne Simmonds, Kyle Okposo and Seth Jones all made the All Star team on their own merits. There are better selections in all cases. PK Subban winning the voting in the Central Division may be legitimate but there is room for the NHL to have fudged the result to make sure they got their preferred result. He is the least plausible of the All Star captains. There is nothing wrong with trying to market hockey to black fans but preferentially adding them to the All Star Game when more qualified other players are omitted seems dishonest.
G/O Media may get a commission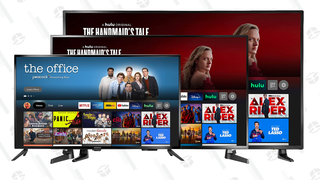 Up to 44% off
Prime Early Access - Insignia Fire TVs
Holy shit, dude.
The blog has been deleted, and in his note this morning, Paul Kukla said the (unpaid) author of The Puck Stops Here will no longer be allowed to write on Kukla's Korner.
My first instinct is to want to hug Paul Kukla. This writer just up and went rogue when no one was looking! I'm picturing myself waking up in the morning to discover that our night blogger had fired off a bunch of race realism takes. Paul's apology note is dripping with helplessness and regret, even though this is not his fault:
I take full responsibility for it being allowed online and I am sorry for that. He has been writing for quite some time and I have no idea why he decided to write what he did, but he did.

[...]

- I would have caught the post in question a little earlier but was dealing with a sore throat and decided to get some rest. Ovechkin got his 1000th point early in the night so I was able to get that posted, then chill.

[...]

I am still shaking my head, trying to wrap my mind around what TPSH was trying to accomplish.
You and me both, bud. I've emailed the author of The Puck Stops Here, and will update if he responds.