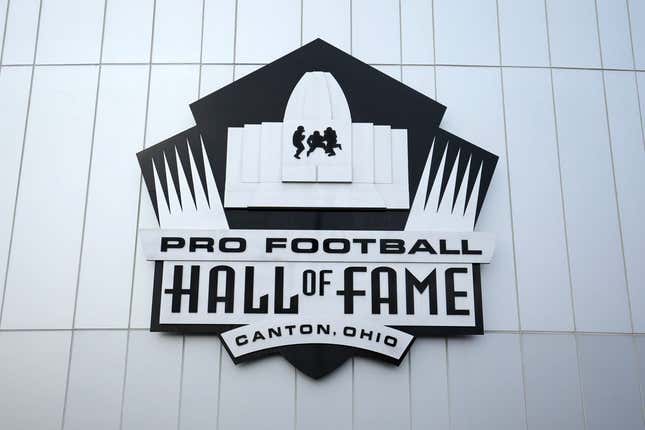 The Pro Football Hall of Fame on Wednesday announced the seniors, coaches and contributors who made the cut as semifinalists for the Class of 2024.
How running an NFL team is like running a restaurant | Chef Emeril Lagasse
The Seniors Committee named 31 semifinalists and the Coach/Contributor Committee added 29 names who move on to the next round of consideration.
Each of the seniors semifinalists played their last game no later than the 1998 season.
They are: Ken Anderson, Ottis Anderson, Carl Banks, Maxie Baughan, Larry Brown, Mark Clayton, Charlie Conerly, Roger Craig, Henry Ellard, Randy Gradishar, Lester Hayes, Chris Hinton, Cecil Isbell, Joe Jacoby, Billy "White Shoes" Johnson, Mike Kenn, Bob Kuechenberg, George Kunz, Albert Lewis, Jim Marshall, Clay Matthews Jr., Steve McMichael, Eddie Meador, Stanley Morgan, Tommy Nobis, Art Powell, Sterling Sharpe, Steve Tasker, Otis Taylor, Everson Walls and Al Wistert.
The semifinalist coaches and contributors are: K.S. "Bud" Adams Jr., Roone Arledge, C.O. Brocato, Tom Coughlin, Alex Gibbs, Ralph Hay, Mike Holmgren, Frank "Bucko" Kilroy, Eddie Kotal, Robert Kraft, Elmer Layden, Jerry Markbreit, Virginia McCaskey, Rich McKay, John McVay, Art Modell, Buddy Parker, Carl Peterson, Dan Reeves, Art Rooney Jr., Marty Schottenheimer, Jerry Seeman, George Seifert, Mike Shanahan, Clark Shaughnessy, Seymour Siwoff, Jim Tunney, Lloyd Wells and John Wooten.
The respective selection committees next will whittle those lists down to 12 names each, with the results announced on July 27.
The Coach/Contributor Committee will then meet Aug. 15 to select one person for final consideration. The Seniors Committee will meet Aug. 15 to select up to three seniors for consideration for the Class of 2024.
--Field Level Media