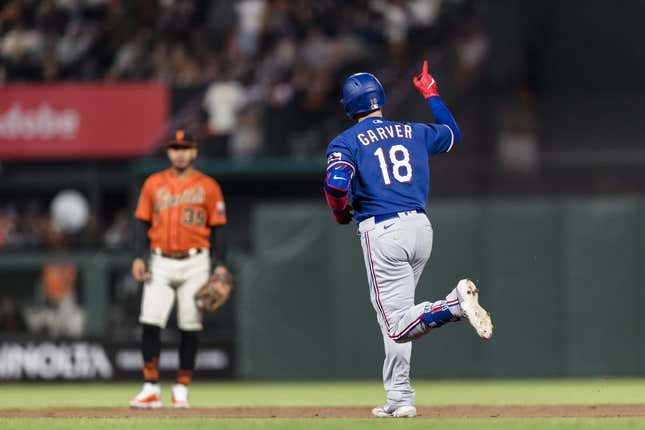 The Texas Rangers will be out to continue their business-like approach Saturday night when they face the San Francisco Giants on the road in the second contest of a three-game series
How running an NFL team is like running a restaurant | Chef Emeril Lagasse
Texas manager Bruce Bochy pushed all the right buttons, but mostly watched Jon Gray, Nathaniel Lowe and Mitch Garver do the heavy lifting in a 2-1 victory Friday night in his first return to San Francisco's Oracle Park after having spent 13 years there as the Giants' manager
The fan favorite shook a lot of hands and enjoyed much reminiscing of a time in which the Giants won three World Series championships, but the 68-year-old had a similar message for all well-wishers: This is a business trip
"I think they understand you're trying to get locked in," he said of his old friends and former players. "These are important games. To everybody, I love you all, but we do have some work to do. I think my friends understand that, too.
With Gray throwing seven shutout innings and Lowe and Garver providing all the needed offensive support with back-to-back solo homers in the sixth inning, the Rangers won for the ninth time in their past 10 games
Bochy's toughest task Friday night -- aside from trying to focus on the game -- was deciding when to pull Gray. The right-hander threw a two-hit shutout for seven innings
The 2,000-win skipper nonetheless went to Aroldis Chapman and Will Smith for the final two innings, and he watched each struggle a bit while a two-run advantage turned into a nail-biting finish
Saturday's scheduled starting pitcher, left-hander Andrew Heaney (9-6, 4.14 ERA), has led the way in two of the Rangers' past nine wins. He hasn't allowed a run in either of his two August starts, a 2-0 win over the Chicago White Sox and 6-0 triumph over the Miami Marlins
The 32-year-old went a total of 11 2/3 innings in those games, allowing six hits while striking out 15, extending his unbeaten streak to four games in his past five starts, including wins in each of the past three
Heaney has gone just 1-3 with a 6.00 ERA in six career starts against the Giants
While Bochy enjoys his homecoming, Heaney will get a chance to talk old times with Saturday's counterpart, right-hander Alex Cobb (6-3, 3.30), a teammate with the Los Angeles Angels in 2021
Cobb is winless in his past five starts, although the Giants have won three of them. He's coming off an 8-6 loss to the Oakland Athletics on Sunday in which he did not get a decision after allowing five runs in 5 1/3 innings
The 35-year-old will be making his ninth career start against the Rangers, having gone 1-1 with a 3.99 ERA in the first eight
Friday's loss was the Giants' fifth in their past six games. Veteran Brandon Crawford, who was the team's regular shortstop during the 2012 and 2014 title runs, said he hopes his team can focus on winning -- and not on the opposing manager -- as the series continues
"We've played well against good teams this year," he said. "So we can hopefully turn it around and start winning again.
--Field Level Medi