The conceptual problem with ESPN The Magazine's Body Issue leads directly into the practical problem with it. Conceptually, as soon as you strip off the athletes' clothing to call more attention to their forms, you diminish the function that's supposed be integral to those forms, and you call attention to the mere fact of nakedness. Practically, when you simplify away the clothing, you suddenly have to deal with the complexities of photographing—that is, for an ABC/Disney publication's purposes, not photographing—breasts and penises and similar natural aspects of the natural human body that you are artificially pointing a camera at.
So how does the magazine deal with the inconvenient fact that its nudes are naked? With a lot of tastefully turned hips, for one thing. Some athletes—a speed skater, a bowler—can bend their bodies into a PG-rated form simply by assuming something that resembles their sport's natural stance.
Many of the athletes, though, end up contorted instead into Austin Powers positions (for the men) or softcore pinup poses (for the women). Pick your favorite topless nipple-covering arm maneuver: the standard V (upper arm over one breast, elbow bent, forearm over the other), the inverted V (forearm over one breast, wrist bent, hand over the other), and the X (arms frankly crossed). There, all covered—but for God's sake, don't move!
Here's a homemade breakdown, on a scale from most coy to most natural, of where the magazine is hiding its female subjects' nipples and male subjects' penises:
G/O Media may get a commission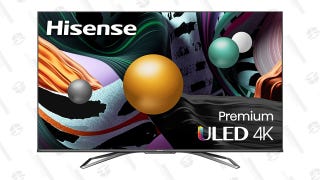 Save $350
Hisense ULED 65" Android 4K HDR Smart TV
Additional reporting by Tommy Craggs.