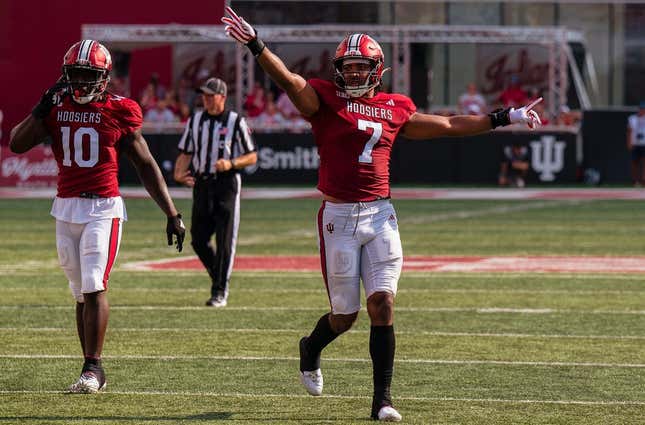 Moral victories do not count in the Big Ten standings, a reminder the Indiana Hoosiers took into their short week of preparation before hosting Indiana State on Friday night in Bloomington, Ind.
How running an NFL team is like running a restaurant | Chef Emeril Lagasse
"Obviously they're going to come here hungry, ready to compete and play and play their very, very best. Very important week of preparation," Hoosiers coach Tom Allen said. "Shorter week. Already had our Tuesday practice today on a Monday and be able to accelerate the week and get ready for an early kickoff."
Indiana (0-1) put up more than a fight in an opening weekend loss to No. 3 Ohio State, a 23-3 defeat but a game that was there for the taking in the second half when the Hoosiers trailed 10-3.
Indiana is no stranger to Indiana State or the Sycamores head coach since 2017, Curt Mallory, the youngest son of former Indiana coach Bill Mallory who played football at Michigan. Allen and Curt Mallory are close and have talked consistently since the pandemic, making the pregame greeting between the two coaches more of a thoughtful recognition of mutual respect.
"It will be a very warm embrace, not your typical," Allen said. "It will be more than your typical just pregame bro hug that coaches give."
Indiana is 16-0 all-time against FCS opponents and 5-0 against Indiana State since 2003.
The Sycamores (0-1) step up in class after opening with a 27-0 loss to Eastern Illinois on Aug. 31.
While IU is on a short week of preparation, Mallory had eight days between games to reset for the Hoosiers and try to find an answer at quarterback with 2022 Missouri Valley Conference freshman of the year Cade Chambers sidelined with a shoulder injury.
"Bottom line — we've got to take care of the football," Mallory said of the opening loss to EIU in which the Sycamores had six turnovers, including four interceptions and two pick-sixes in the second quarter.
"One game doesn't make or break you, but we've got to learn from it. Get better going to Week 2."
Indiana State played Gavin Screws and Evan Olaes at quarterback. Olaes led the team with 59 rushing yards. Both quarterbacks threw two picks.
"Execution ... was not good. I wouldn't say effort. We'll see what we can do better," Mallory said.
Allen reminded his players that next week's game in Indianapolis — a neutral site battle with Louisville — means much less if they don't take Indiana State seriously.
With six transfers in the starting lineup for the opener with Ohio State and 24 total on scholarship, there is still a feeling-out phase evident for Indiana.
Two critical areas of improvement for IU this week are third-down conversions and the passing game. Indiana enters Week 2 ranked 130th in total offense and 129th in passing.
Redshirt freshman Brendan Sorsby, who competed with Tayven Jackson for the No. 1 QB role in fall camp, started against Ohio State. He will back up Jackson this week.
"When you think about up front, which is where it starts, and we have the skill around them, we've just got to keep growing it and get these young quarterbacks developed," Allen said. "And the best way to do it is to play and that's what they got a chance to do. And we didn't have play calling on either one of them, but it ended up being pretty balanced, not necessarily by design but just by the way it worked out."
—Field Level Media