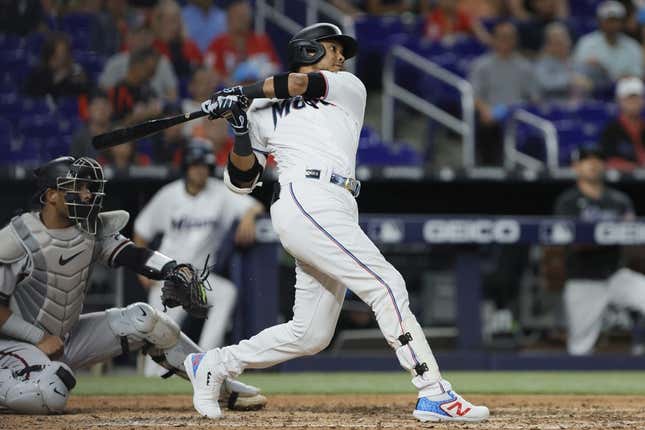 Riding their longest winning streak since a six-game run that started last June, the Miami Marlins will be looking for their fifth straight victory on Sunday when they host the Arizona Diamondbacks in the finale of a three-game series
Miami seemingly has a good shot to continue its winning ways, as it will give the ball to right-hander Sandy Alcantara, the reigning National League Cy Young Award winner.
However, Alcantara is off to a slow start at 1-1 with a 5.79 ERA.
In three starts this year, Alcantara has been mediocre, brilliant and terrible. He allowed three runs in 5 2/3 innings against the Mets in his season debut before tossing a complete game shutout against the Twins on April 4. But in his most recent outing, a loss to the Phillies on Monday, Alcantara was tagged for nine runs on 10 hits in four innings.
"Maybe they said this guy throws too many strikes, let's swing the bat," Alcantara said about the outing against Philadelphia. "They make a lot of hard contact, soft contact. It's part of the game."
In four career starts against Arizona, Alcantara is 0-1 with a 2.92 ERA.
Offensively, the Marlins are powered by second baseman Luis Arraez, who leads the majors with a .511 batting average
Arraez, who won the American League batting title last year with the Twins, hasn't started the last two games due to a finger injury. However, he had a go-ahead, pinch-hit RBI single in the seventh inning of Miami's 3-2 win over Arizona on Saturday.
Marlins manager Skip Schumaker had Arraez warm up for a possible pinch-hit role around the sixth inning
"I went there and did my thing," Arraez said. "I just wanted to put the ball in play."
Arraez said he was about 8 years old the last time he had a batting average this high.
"I'm just excited and happy about hitting .500," Arraez said. "But especially (happy about) helping my team win."
Meanwhile, Arizona will start right-hander Zac Gallen (1-1, 4.58 ERA), who was Alcantara's teammate in the St. Louis Cardinals organization before both of them were traded to Miami in exchange for Marcell Ozuna.
Gallen is coming off a career year in 2022, when he went 12-4 with a 2.54 ERA in 31 starts for Arizona. The 12 wins were a career high.
This season, Gallen got off to a rough start, allowing 10 runs (nine earned) in his first two starts, covering 10 2/3 innings.
However, in his most recent outing, Gallen threw a gem -- seven scoreless innings against the Brewers. He struck out 11 and allowed just three hits and one walk.
"Having a night like this is nice," Gallen said after earning the win against Milwaukee. "It's a confidence boost. I really wasn't too worried about it, really. It's two starts so far. Now it's the third. I'm going to make maybe 27, 30 more of these. Just understanding it's a long season and try not to worry about two starts."
Gallen was the winner in his only start against the Marlins, which came last season. He allowed two runs in 6 1/3 innings, giving up five hits and striking out seven
--Field Level Media