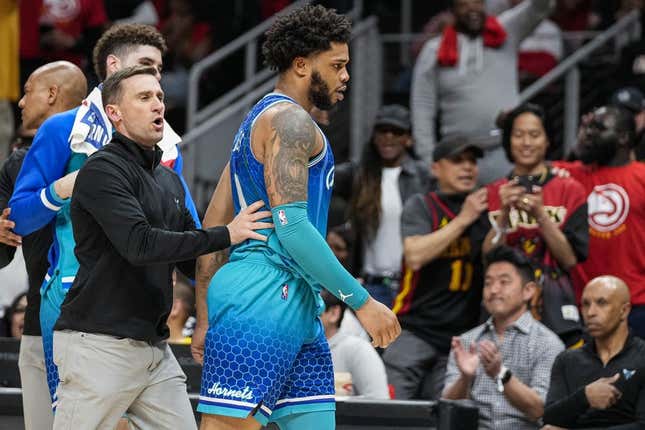 Charlotte Hornets forward Miles Bridges addressed his year-long absence from the NBA by apologizing Tuesday for causing "pain and embarrassment" after a domestic violence incident in which he was accused of assaulting the mother of his children in front of them
How running an NFL team is like running a restaurant | Chef Emeril Lagasse
"I want to apologize to everybody for the pain and embarrassment that I have caused everyone, especially my family," Bridges said. "This year away I've used to prioritize going to therapy and becoming the best person I can be -- someone that my family and everyone here can be proud of."
Bridges, 25, did not play last season after he was arrested in Los Angeles on June 29, 2022, on domestic violence charges and ultimately pled no contest while receiving a sentence of three years probation. He was handed a 30-game suspension by the NBA in April and will have to serve 10 games of that next season, with 20 games credited for time served.
On July 7, the Hornets announced Bridges had signed a one-year, $7.9 million qualifying offer. He will be eligible to become an unrestricted free agent next summer
In his first public comments since re-signing, Bridges pledged to work on his relationships with his teammates and the community of Charlotte. He thanked the organization and the league for giving him a second chance, saying, "A lot of people don't get a second chance, and I want to use this second chance to prove to everyone that I'm the same kid you drafted five years ago.
Hornets general manager Mitch Kupchak said the decision to re-sign Bridges was unanimous among outgoing and incoming members of the ownership group and was done so after reviewing investigations by the Los Angeles Police Department and the NBA and considering the team's personal five-year-long relationship with Bridges
"You have to make a judgment, right?" Kupchak said. "Is this sincere remorse? Is this sincere accountability? It is not something that is easy to judge. We took all of those factors into consideration and ultimately gave him a second chance."
The Michigan State product averaged 20.2 points, 7.0 rebounds and 3.8 assists in 80 games (all starts) in 2021-22 with the Hornets. In four seasons with the club, he has averaged 13.4 points with 5.6 rebounds and 2.3 assists in 291 games (188 starts)
--Field Level Media