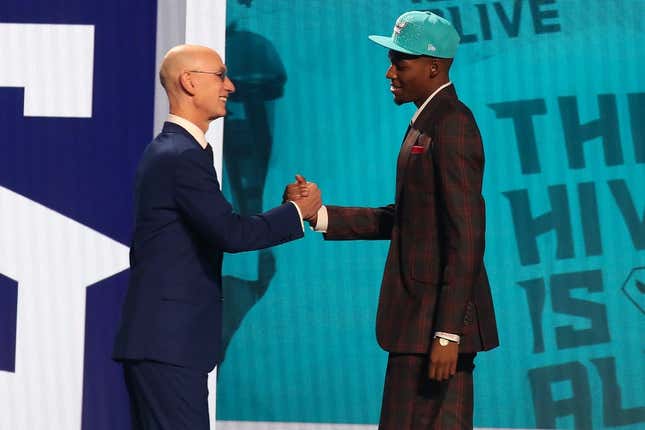 Charlotte selected Brandon Miller with the No. 2 pick in the 2023 NBA Draft, ending weeks of buzz that the Hornets were leaning another direction
Is Texas or Florida State a bigger national title contender? | Agree to Disagree
"Obviously there were two players that were heavily considered," Hornets general manager Mitch Kupchak said Thursday night without referencing G League Ignite point guard Scoot Henderson, who was picked third overall by the Portland Trail Blazers. "Brandon was the favorite all along. You do your due diligence. ..
"It wasn't the easiest of decisions. Brandon was our favorite all along. A lot of spirited discussion in the last three or four days, which I welcome."
Miller, a 6-foot-9 forward who said he models his game after Los Angeles Clippers forward Paul George, led Alabama to 31 wins and a No. 1 seed in the 2023 NCAA Tournament. He was the Crimson Tide's top scorer (18.8 points per game) and rebounder (8.2 per game) while contributing 2.1 assists per contest.
Miller worked out twice for the Hornets, most recently on Monday. Charlotte guard LaMelo Ball was in attendance
Kupchak said he wasn't aware of fans at the draft reacting to the Hornets' pick Thursday with boos. He said six teams showed "strong interest" in trading up to select second, but Kupchak never felt compelled to move the pick
More scrutiny could follow for Kupchak and Miller, as Ball's contract status is on the list of Hornets' concerns. Ball will be eligible for restricted free agency in July 2024
Miller can expect to face continued questions about an alleged connection to the shooting death of 23-year-old Jamea Jonae Harris on Jan. 15 in Tuscaloosa, Ala.
Darius Miles, formerly an Alabama basketball player, and Michael Davis were charged with capital murder in the shooting. Police testimony included allegations Miller answered Miles' request to bring him the weapon ultimately used in the shooting. Miller has not been charged, and police said no charges are being considered.
--Field Level Media