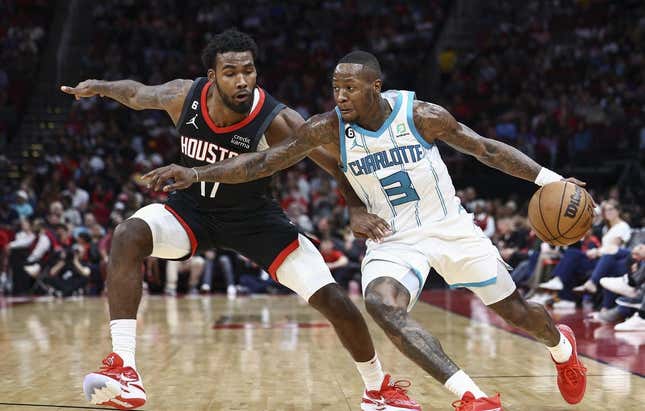 There hasn't been much to cheer about for fans of the Charlotte Hornets this season. Lately, it's difficult to even keep track of which players to cheer for
Air Jordans are more American than McDonald's French fries | Deon Cole's Ultimate Sports Fantasy
That's because Charlotte's injury-riddled team has had what amounts to a late-season roster overhaul.
The Hornets take on another struggling team in their home finale when the Houston Rockets visit Friday night
The goal for Charlotte is to make use of the final few games as younger players move into primary roles.
"It's a great opportunity for them," Hornets coach Steve Clifford said. "This is a good opportunity for those guys to grow. ... It's a big step up from playing in the G League.
This is a matchup between two of the four worst teams in the NBA.
The Rockets (20-60) are fresh off a victory in their home finale with Tuesday night's 124-103 decision against the Denver Nuggets. That gave Houston triumphs in two of its last three games
"We haven't won as many games as I would like," Rockets coach Stephen Silas said. "It's a credit to those guys in that locker room. They could have quit a long time ago, but they don't have that in them to just quit and just let these games just pass by and let the summer start.
The Hornets (26-54) are playing their home finale, trying to snap a three-game losing streak that began at the outset of the four-game homestand
Both teams will be coming off two-day layoffs.
Jalen Green has led the Rockets in scoring the past two games, posting 32 points against Denver
Silas was impressed with how the team approached defensive assignments. That was as encouraging as the offensive boosts.
"(Alperen Sengun) had the best defensive game of his career," Silas said. "I thought he did an amazing job on the defensive end. I was proud of him for that."
Charlotte won an earlier meeting 122-117 on Jan. 18 at Houston despite Green's 41 points. Since that game, Green has reached the 40-point level in three other games. Houston has gone 10-25 since the first meeting with Charlotte.
The Hornets' roster has changed drastically. In Tuesday night's 120-100 loss to the Toronto Raptors, none of the starters from the season's opening game played for Charlotte
Going back to the midseason victory at Houston, only JT Thor and Bryce McGowens played in that game for the Hornets and earlier this week for the team
McGowens, a rookie, scored a season-high 20 points as Charlotte's leading scorer Tuesday night.
"He's got really good instincts," Clifford said. "He's got good size, a good athlete. He has got a great attitude. It's really good seeing him use these games to kind of jump-start his summer."
The lineup fluctuations naturally have led to more miscues for the Hornets, who've been hindered by turnovers during recent games
"Ball pressure, passing-lane pressure led to live-ball turnovers," Clifford said.
McGowens couldn't overlook those turnovers, either.
"The effort was still there," McGowens said. "We executed on the defensive end, it's just transition buckets. We gave up a lot of those."
The Hornets are 13-27 in home games. Houston is 6-33 on the road with six consecutive losses away from home
--Field Level Media