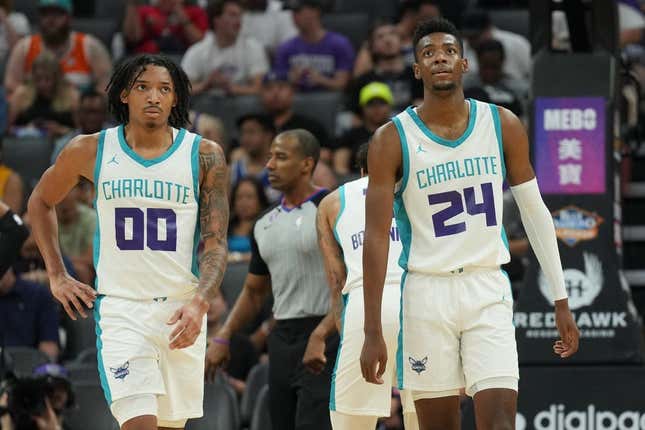 The NBA's Board of Governors officially approved Michael Jordan's sale of a majority stake in the Charlotte Hornets to Rick Schnall and Gabe Plotkin, the franchise announced Thursday
Is Texas or Florida State a bigger national title contender? | Agree to Disagree
The reported price tag for assuming control of the Hornets was approximately $3 billion. The vote on the sale was 29-1, with New York Knicks owner James Dolan serving as the lone objection
Jordan, who will remain on board with a minority stake in the franchise, became majority of owner of the Hornets in 2010. He had been the league's lone Black majority owner
"The opportunity to be the majority owner of the Charlotte Hornets in my home state of North Carolina for the last 13 years has been a tremendous honor," Jordan said. "I'm proud of all that the organization accomplished: the exciting on-court moments, the return of the Hornets name, Charlotte hosting the 2019 NBA All-Star Game and HSE becoming a true pillar of this community. Through the years, the unwavering commitment, passion and loyalty of our Hornets fans has been incredible
"As I transition into a minority ownership role, I'm thrilled to be able to pass the reins to two successful, innovative and strategic leaders in Gabe and Rick. I know the Hornets organization is in great hands moving forward. I'm excited about the future of the team and will continue to support the organization and the community in my new role in the years ahead.
Schnall, who is a minority owner of the Atlanta Hawks, has been alternate governor on the NBA Board of Governors since 2015. He is the co-president of Clayton, Dubilier & Rice, LLC
Plotkin, who acquired a minority stake in the Hornets in 2019, has been alternate governor on the NBA Board of Governors since that year. He is the founder and chief investment officer of Tallwoods Capital LLC
In a joint statement, Schnall and Plotkin said they have big plans for the team
"We want to thank Michael for this opportunity, as well as his support throughout this process. During his ownership, he brought stability to the Hornets franchise, achieved many business milestones, reconnected and reinvested in the Charlotte community and has the organization positioned for greater success. We look forward to building upon this success in the years to come
"As lifelong fans of the game of basketball and the NBA, we're well aware of the importance of the sport in the Carolinas and we're thrilled to take a controlling stake in the Hornets. We're excited about the organization's future. Charlotte is a great city and a thriving sports town. The Hornets fan base is one of the most passionate in all of sports. It is a privilege to own an NBA team. We understand the Hornets are a community asset and it is our responsibility to be good stewards for this franchise representing our community and entire fan base
"Our vision is to take the Hornets to the next level, both on and off the court. We will look to build a highly competitive basketball team, develop innovative business practices, give back to our community and connect with our fans. We plan to further invest in the team, the facilities and the fan experience, with the goal of delivering a winner to our fans throughout the Carolinas. We are confident that our successful business backgrounds and our previous experience as NBA minority owners will be beneficial as we shape the future of the franchise as a best-in-class organization.
One of the greatest players of all time, Jordan played for the Chicago Bulls (1984-98) and the Washington Wizards (2001-03)
With the Bulls, he earned six league titles, six Finals MVPs, five regular-season MVPs, 14 NBA All-Star selections and 10 All NBA First Team nods. He also notched an NBA Defensive Player of the Year award and nine All-Defensive First Team honors
--Field Level Medi