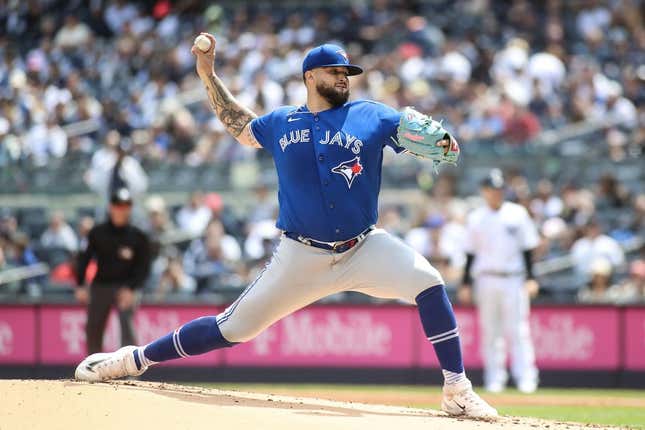 The visiting Seattle Mariners will bring some good and some bitter memories for the Toronto Blue Jays when the teams open a three-game series Friday night
The last time the Mariners visited Toronto, they overcame an 8-1 deficit Oct. 8 to complete a two-game sweep of the best-of-three American League wild-card series
Including that series, the Mariners have defeated the Blue Jays seven consecutive times. They took the season series from Toronto 5-2 last year
A more pleasant aspect of the visit for Toronto will be the return of Teoscar Hernandez, who hit two home runs for the Blue Jays in Game 2 against Seattle
Hernandez was traded to Seattle in the offseason in a deal that brought reliever Erik Swanson to Toronto.
While Toronto had Thursday off, Seattle lost 1-0 to the Philadelphia Phillies to open their nine-game road trip with a 1-2 record.
George Kirby (2-2) gave Seattle's bullpen a needed break by pitching a complete game.
"We've got to do more offensively," Mariners manager Scott Servais said. "Three hits ain't gonna get it done, not in this ballpark, not against anybody.
The Blue Jays are looking forward to the series with the Mariners
"You try to win the series because every year is different, every team is different," Blue Jays manager John Schneider said Wednesday before an 8-0 victory that completed a three-game home sweep of the Chicago White Sox
"We are definitely a different team than we were last year when we played (the Mariners)," Schneider said. "I know the guys are excited about this series and so am I. The expectation is like any other series, which is to try to win.
The series will complete a six-game homestand for the Blue Jays, who have won four in a row
The series opener features a rematch of the first-game starters from the wild-card series.
Right-hander Luis Castillo (2-0, 1.52) will start for Seattle with right-hander Alek Manoah (1-1, 5.13) pitching for Toronto.
Castillo pitched 7 1/3 scoreless innings to earn the win in Game 1 against Toronto.
He is 0-1 with a 3.00 ERA in his career during the regular season against Toronto.
Manoah allowed four runs in 5 2/3 innings to take the loss in Game 1. In one career regular-season start against Seattle, Manoah is 0-1 with a 2.45 ERA.
Left-hander Robbie Ray, who won the 2021 American League Cy Young Award with Toronto, is out for the rest of the season.
Ray, who started Game 2 for Seattle in Toronto in the wild-card series, will undergo surgery to repair the flexor tendon in his left forearm.
Right-hander Chris Flexen, who was a fixture in Seattle's rotation in 2021 and part of 2022 before moving to the bullpen, returned to the rotation to take Ray's spot. He has struggled in that role, going 0-4 with a 10.38 ERA in four starts.
Flexen is scheduled to start Saturday in Toronto, but a change might be made if his struggles continue.
"We're talking about everything right now," Servais said. "We certainly still like our rotation, but we've got young guys down below that are really interesting prospects. We're kind of working through what's the best course of action for us -- probably more long term than actual short term. A lot of discussions are going on. We'll figure it out going forward."
--Field Level Media