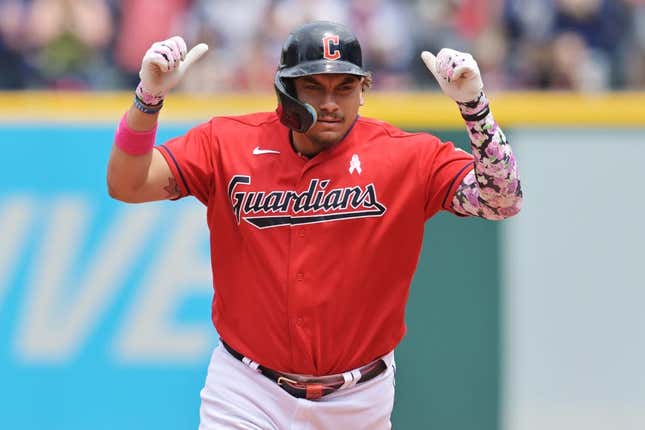 The Chicago White Sox will need more than just Luis Robert Jr. to produce offense as they head into the opener of a three-game series Tuesday against the visiting Cleveland Guardians
Bass' ERA stinks, but not compared to who he is off the mound | Worst of the Week Countdown
Robert drove in or scored six of the seven runs in Chicago's three-game series against the Houston Astros last weekend.
That wasn't enough to keep the White Sox from losing two out of three to drop 14 games under .500
Robert, a Gold Glove-winning outfielder in the 2020 season, has set the bar high for his teammates in a number of ways. White Sox manager Pedro Grifol said he's been most impressed with the improvement in Robert's plate discipline
"He has very little weaknesses when it comes to what type of pitches he can hit," Grifol said. "He can hit breaking balls out of the ballpark. He can hit all kinds of pitches. He just has to make sure they're in the strike zone. He's doing a really good job of preparing himself to do that."
After a rough 16-game stretch to end April, when Robert batted .091 with five hits and 20 strikeouts, he is batting .422 in May with six home runs and 14 RBIs.
Robert said a major difference this season has been the ability to continue with his offseason training regimen in the batting cage.
"Those are drills that I do with my personal trainer and my personal hitting coach during the offseason," he said. "I haven't been able to incorporate those to my work here, but now I was able to do it."
The Guardians have their own red-hot hitter in first baseman Josh Naylor, who blasted go-ahead home runs in the eighth inning of the past three games, helping Cleveland take two of three against the visiting Los Angeles Angels
According to ESPN Stats & Information, Naylor is the first player since 1961 to hit a go-ahead home run in the eighth inning or later in three straight games.
"You have to learn how to ride the wave," Naylor said. "Sometimes it's not going to be going well and sometimes it's going to be going off the charts, but you've got to stay even-keeled."
Naylor poured fuel on an offense that was limited to three runs or fewer in 24 of the first 37 games, but combined for 16 runs against the Angels.
"I think he's like that spark for the team that, whenever he's going, gets that energy going," Guardians second baseman Andres Gimenez said. "I'm really happy for him to see the results that he has had the last couple of games because I know he works really hard and he's a really good player.
Right-hander Shane Bieber is set to start on the mound for Cleveland.
Bieber (3-1, 2.61 ERA) has posted three consecutive sharp outings, most recently holding the Detroit Tigers scoreless on seven hits over six innings in a 2-0 win last Tuesday.
Bieber has made 17 starts in his career against the White Sox, going 8-4 with a 2.64 ERA
The White Sox originally were scheduled to start Lance Lynn in the series opener, but Grifol said after the 4-3 loss to the Astros on Sunday that he had not determined his rotation for the Cleveland series
--Field Level Media