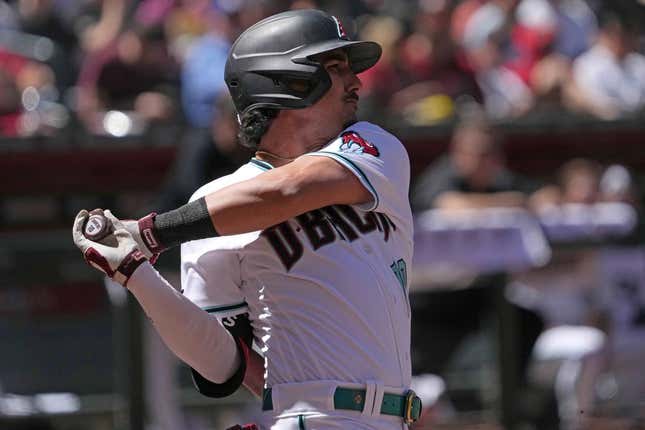 The Milwaukee Brewers will face a hot lineup Monday night when they kick off a 10-game trip with a matchup against the Arizona Diamondbacks in Phoenix
Arizona is coming off an 11-6 triumph over the Los Angeles Dodgers on Sunday as the Diamondbacks collected 16 hits
Arizona had 17 hits in its 12-8 victory over the Dodgers on Saturday.
"We definitely have the team that can scrap away runs and continue to non-stop run, hit, play good defense," said Arizona outfielder Alek Thomas, who had four hits in Saturday's win. "We're not going to give up. I think that's the mentality of the team. Just keep on going and good things will happen."
Arizona isn't lacking speed or athleticism, getting five stolen bases in Sunday's win.
"I think we are changing the game a little bit," said Arizona infielder Josh Rojas, who stole 23 bases last season. "We're going back to the old-school style, bunting guys in, hitting and running, being aggressive on the basepaths.
"The new rule changes are just promoting what we're trying to do. The bigger bases, the pitch clock -- it's all foreign to the pitcher -- so it makes them susceptible to being uncomfortable."
Milwaukee wrapped up a 5-1 homestand Sunday with a 6-1 win over the St. Louis Cardinals. The Brewers received a strong start from Freddy Peralta, who allowed one run in six innings. Relievers Peter Strzelecki, Matt Bush, Hoby Milner and Devin Williams pitched three scoreless innings
The Brewers' bullpen has not allowed a run in the past 23 1/3 innings
Monday's probable pitchers are Milwaukee left-hander Wade Miley (1-0, 0.00 ERA) and Arizona righty Zac Gallen (0-1, 7.59).
Miley pitched six scoreless innings in his first start with the Brewers, a 9-0 victory over the New York Mets on Tuesday. It was the 100th career victory for Miley, who signed a one-year deal with Milwaukee in January. Elbow and shoulder issues limited Miley to eight starts with the Chicago Cubs last season
Gallen, who finished fifth in voting for the National League Cy Young Award last season, hasn't been his best in his first two starts this year. He gave up five runs on six hits in 4 2/3 innings in a loss to the Dodgers on Opening Day, and he surrendered five runs (four earned) on seven hits in six innings in an 8-6 victory over San Diego on Tuesday. He was not involved in the decision against the Padres.
On Sunday, the Brewers acquired left-handed reliever Bennett Sousa in a trade with Cincinnati, sending cash considerations to the Reds. Sousa, 28, made his major league debut last season when he made 25 appearances for the Chicago White Sox. He went 3-0 with one save and had an 8.41 ERA in 25 appearances
"Really interesting guy with some good stuff," Milwaukee general manager Matt Arnold said. "We believe he has some interesting ingredients that we can work with. He has a long history of good performance in the minor leagues and has struck out a lot of guys there."
To make room for Sousa on the 40-man roster, the Brewers transferred left-hander Aaron Ashby to the 60-day injured list. Ashby underwent surgery on his throwing shoulder on Friday
--Field Level Media