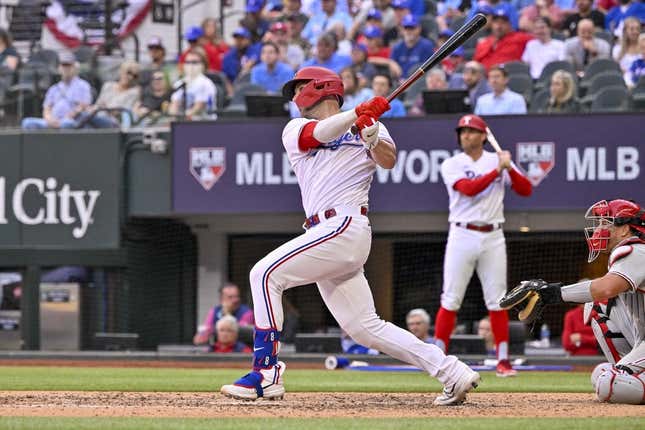 Offense hasn't been a problem for the Texas Rangers so far this season, and the club will be trying to earn a three-game sweep when it faces the Philadelphia Phillies on Sunday night in Arlington, Texas
'Soccer fandom is full of gatekeepers' says Ted Lasso actor Brendan Hunt
After beating Philadelphia 11-7 in the season opener on Thursday, the Rangers pounded out 17 hits in a 16-3 triumph over the Phillies on Saturday
"It's good to see these bats come alive here these last two days," Texas manager Bruce Bochy said. "You see games like this, it just gets contagious. That's what happened today with the offense."
The three-run home run has been the Rangers' offensive weapon of choice in their first two games. Outfielder Robbie Grossman belted a three-run homer in the opener, and catcher Mitch Garver hit two three-run home runs in Saturday's win
Garver wasn't in the lineup when the Rangers beat the Phillies on Thursday. He was limited to 14 games behind the plate last season because of a forearm injury and had flexor tendon surgery in the offseason
"We're going to take care of Mitch coming off the injury," Bochy said. "It's fair to say that Jonah (catcher Jonah Heim) will get a little more playing time. It's being cautious so we can keep Mitch healthy."
Bochy said Garver will be the designated hitter for Sunday's game.
"It feels good to hit two hard balls and have a little bit of resemblance of what I used to do," Garver said. "You're constantly tweaking with your swing, trying to figure out something that feels good for the day," he said. "It's the nature of the beast, just trying to feel good. Then it's all about competing."
Adolis Garcia and Nathaniel Lowe each had three hits Saturday. Grossman, who played for both Detroit and Atlanta in 2022, had two hits and drove in two runs.
"He's a good player," Texas general manager Chris Young said after the Rangers signed Grossman. "We think he complements our lineup very well. Certainly his numbers over the last couple of years, from the right side, have been very strong. He's a solid defender. He's a good base runner. He's a great competitor. Good teammate. He fits our clubhouse and we think it raises the floor of our team and potentially lengthens our lineup.
The Rangers, who have not had a winning season since 2016, are two games over .500 for the first time since they were 58-56 in 2019
Sunday night's pitching matchup features a pair of lefties: Philadelphia's Bailey Falter and Texas' Martin Perez.
Falter is a contact pitcher who went 6-4 with a 3.86 ERA in 20 games (16 starts) last season. Perez had a 12-8 record with a 2.89 ERA in 32 starts in 2022. Perez led the Rangers in victories, ERA and strikeouts (169) last season
The Phillies added center fielder Cristian Pache to the roster on Wednesday when they sent right-handed pitcher Billy Sullivan to Oakland in exchange. Pache batted .302 and drove in three runs during spring training
Pache was signed by the Braves in 2015. He was traded from Atlanta to Oakland in 2022, part of the five-player trade that sent Matt Olson to the Braves.
"I'm here to give my 100 percent every time I'm out on the field," he said. "I'm going to do everything I can to help this team win. I'm a team player. I'm going to help these guys in any way I can."
--Field Level Media