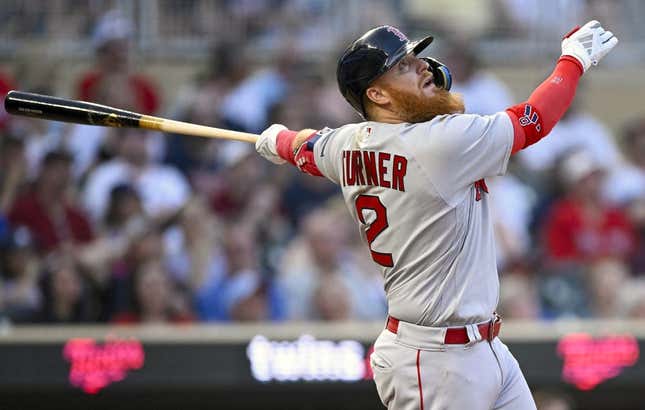 Boston Red Sox right fielder Alex Verdugo is swinging a hot bat, and he's got plenty of company. Seemingly everyone has contributed during the team's six-game winning streak
How running an NFL team is like running a restaurant | Chef Emeril Lagasse
The Red Sox will look to extend the streak on Wednesday night when they continue their four-game series against the Minnesota Twins in Minneapolis
Christian Arroyo homered among his career-high five hits and had four RBIs in Boston's 10-4 victory Tuesday. Adam Duvall hit a solo homer and Masataka Yoshida went 3-for-5 with a two-run homer, three runs and three RBIs.
The Red Sox have outscored their opponents 50-18 during their streak. Verdugo singled in a run on Tuesday and is 18-for-48 (.375) during his 11-game hitting streak. He is tied for the American League lead in doubles (24)
"I know the type of hitter I am," Verdugo said. "Doubles are still really good. It puts you in a really good spot to score and just help your team. I think that's one thing I'm doing better. I'm not getting caught up with all the numbers. I'm just trying to have fun, hit the ball, and put my team in the best position to win."
While Boston is averaging 8.3 runs per game in its last six games, Minnesota's offense has been inconsistent for most of the month. The Twins have lost three straight games and five of their past six
"We're capable of a lot more than we are showing right now, and I'm waiting to see it," Twins manager Rocco Baldelli said after Tuesday's loss. "It's going to come; I want it to come soon. ... There are going to be better days ahead, and we've got to keep our heads up and keep playing.
Minnesota, which is in first place in the American League Central despite a 36-38 record, will look to get untracked against Boston starter Garrett Whitlock (4-2, 4.38 ERA). The right-hander won his second straight start last Wednesday, allowing two runs over seven innings in a 6-3 victory over the Colorado Rockies.
The Red Sox have won each of Whitlock's last four starts. He has allowed a total of three home runs in his last six outings covering 34 innings
Boston manager Alex Cora has been impressed by Whitlock's pitch mix, which includes a devastating sweeper.
"It's closer to what it was in 2021. It's a swing-and-miss pitch," Cora said. "He can use it against lefties and righties. With the combination of the bigger slider now, the sweeper, it's tough."
Whitlock has a 3.86 ERA in seven innings across four career relief appearances vs. Minnesota.
The Twins will counter with right-hander Sonny Gray (4-1, 2.37), who received a no-decision after allowing two runs in four innings against the Detroit Tigers last Thursday
Gray was visibly frustrated after being lifted in the fourth inning. He walked four and threw 79 pitches.
"I'm super competitive, and [even] when I don't have it, I still feel I can get a job done," Gray said. "I think that was all it was. There is nothing other than that. I wanted to stay in it, and it just didn't happen."
Justin Turner is 5-for-11 with a home run against Gray, who is 1-7 with a 6.29 ERA in 11 career games (10 starts) vs. Boston. He last faced the Red Sox on April 18, when he allowed one run over five innings at Fenway Park
He didn't get a decision in the 5-4 Red Sox win
--Field Level Media