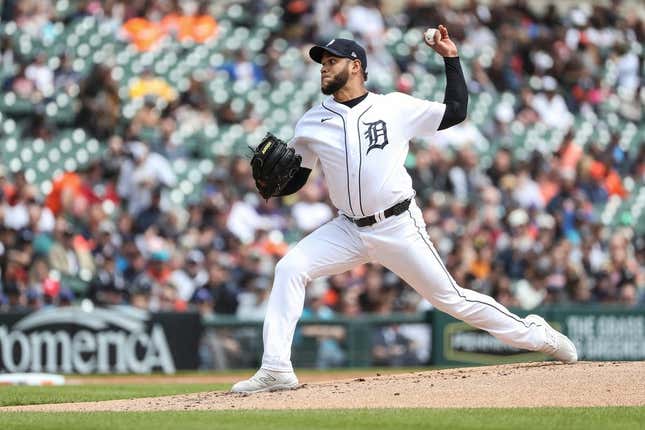 While everything seems to be falling into place for Detroit Tigers left-hander Eduardo Rodriguez this season, wins have been elusive for young Cleveland Guardians right-hander Peyton Battenfield
'Soccer fandom is full of gatekeepers' says Ted Lasso actor Brendan Hunt
Rodriguez and Battenfield are scheduled to go head to head on Wednesday afternoon in the rubber game of a three-game series in Cleveland.
The Tigers won the opener 6-2 on Monday night before five Cleveland pitchers combined to blank Detroit on nine hits in a 2-0 win on Tuesday
Rodriguez (3-2, 1.81 ERA) is coming off a 2-0 win against the New York Mets on Thursday in which he threw eight scoreless innings and allowed just two hits and one walk while striking out nine.
It was the third time this season Rodriguez went at least seven innings without allowing a run. In his past five starts, he has pitched at least into the sixth inning and allowed one run or fewer every time.
"I would say that's the best (string of) starts I've had in my career," Rodriguez said. "I just want to go out there and keep doing it."
Rodriguez, 30, took a perfect-game bid into the seventh inning two starts ago against the Baltimore Orioles. His ERA is the fifth lowest in the majors.
"When Eduardo's doing this every week, it's a little easier to win," Tigers catcher Jake Rogers said. "You can score one or two and win. Can't really beat it.
Rodriguez has made five starts in his career against the Guardians, going 3-0 with a 3.12 ERA
He will be up against a Cleveland offense that has been held to three runs or fewer in 23 of 36 games this season.
Battenfield, meanwhile, is still searching for his first major league win after four starts and one relief outing.
Like most pitchers for the Guardians, Battenfield (0-3, 4.07 ERA) has endured a lack of run support
In his most recent outing, the 25-year-old took a no-hitter into the sixth inning against the Minnesota Twins on Friday before limiting them to two runs and two hits over seven innings. He took the loss in a 2-0 defeat.
He held the Tigers to one run and three hits over six innings on April 18, but again the Guardians were blanked 1-0
Cleveland has scored a total of four runs in his four starts this season.
Battenfield, 25, was briefly relegated to the bullpen, but now he is back in the rotation after the team sent Zach Plesac to the minors. At the very least, he should remain a starter until Triston McKenzie (shoulder) and Aaron Civale (oblique) return from the injured list.
"The thing that makes it the easiest is having somewhat of a routine going into starts," Battenfield said. "Especially for me, I mean, going back and forth is a little difficult."
Battenfield knows about pitching in relief, as he did so 59 times over three seasons at Oklahoma State.
"I was a little overconfident in the (Cleveland) bullpen because I was a reliever all through college," he said. "I thought I could grasp it pretty easy."
--Field Level Media