The Seattle Seahawks have the league's most dominant defense, one that prides itself on brutality—usually legal, but not always—and turnovers. The catalyst for all those interceptions and fumbles is an uncommon defensive scheme that prioritizes one thing above all others: Pressure.
Jokic? Embiid? The NBA MVP is obvious... right? | Keep it a Buck(et)
The Seahawks defense had the second-easiest schedule this season, according to Football Outsiders, but they can only play the opponents assigned to them, and they did a hell of a job through those 16 games. Seattle's defensive DVOA was the league-best in 2013's regular season, and in the weighted DVOA, which accounts for playing good and bad offenses, its rating actually improved. How'd they manage that?
One big reason is one of the maxims in football that actually bears out: The best defense is a good offense. Simply, Seattle's offense doesn't screw over the defense. Seattle is heavy on the run and can keep a top offense off the field if it really needs to. The Seahawks are one of the slowest teams to snap the ball, taking an average of 29.08 seconds per play. They're also in the top 10 in terms of time of possession, averaging 2:48 per drive. Seattle's offense rarely gives the ball up as they march down the field with a fifth-fewest .095 turnovers per drive, which helps the defense start defending at an average of the 25.85-yard line, sixth-best in the league. That last point is crucial, since it allows the Hawks to have qualities of the oft-referenced "bend-but-don't-break" defense (12th in plays per drive, 25th in time of possession per drive, 15th in three-and-outs), while having enough field to work with to eventually stamp out drives, and allowing the fewest touchdowns per drive (.112 per drive) in the league.
G/O Media may get a commission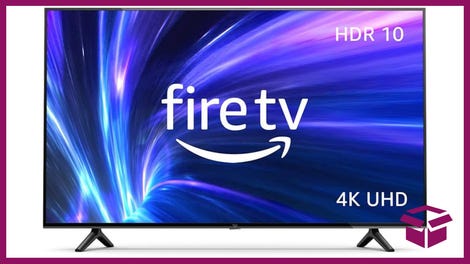 42% Off
Amazon Fire TV 50" 4K Smart TV
But obviously, the offense doesn't account for everything. Under defensive coordinator Dan Quinn, the Seahawks run a 4-3 base defense. Quinn took over after Gus Bradley left for the Jaguars, but the utilization of the front seven hasn't changed much. Former Deadspinner Jack Dickey wrote about the construction of Seattle's elite defense back in 2012, while Bradley was still running it. The Seahawks incorporate a "Leo," a weakside defensive end/linebacker hybrid whose primary role is blitzing. Chris Clemons and Cliff Avril have filled the Leo role this season, but the addition of Bruce Irvin—formerly a defensive end—to the outside linebacker position has found a lot of success. On appropriate plays, Irvin will also act as a Leo, and he's also excelled in short pass coverage.
The versatility with Clemons, Avril, and Irvin creates a trio of dangerous hybrid pass-rushers who are more agile than the usual defensive end. SB Nation's Ben Muth looked at the Seahawks' front and its deception in October. At times, the 4-3 alignment can act like a 3-4 because the alignment makes it difficult to discern who's blitzing. The Leo usually will, and so will the line, but outside of that, additional pressure can come from anywhere, thereby confusing blocking assignments.
Quinn's direction proved effective this season. As a team, Seattle is seventh in adjusted sack rate. Avril and Clemons each had 28 quarterback hurries; on the other side, non-Leo defensive end Michael Bennett had 8.5 sacks, 17 quarterback hits and 39 hurries. (Bennett's pass-rushing prowess grades out at 20.9, third-best among 4-3 defensive ends, according to Pro Football Focus.) The three combined for 21 sacks, but even if they weren't taking down the quarterback, they were forcing his throws, which helps contribute to the Hawks' league-leading turnover rate (20.1 percent of drives, a ridiculous number).
That pressure interlocks with the Seahawks' incredible pass defense. Despite losing hard-hitting, six-foot-four cornerback Brandon Browner to an indefinite suspension during the regular season, Seattle's secondary remains intimidating. Richard Sherman is one of the best man defenders in the league, allowing just 0.77 yards per coverage snap—second-best behind Darrelle Revis—and a ridiculous 18.3 coverage snaps per reception (translation: for roughly every 18 times Sherman is in coverage, he gives up one reception).
Sherman also led the league with eight interceptions. Hell, the whole secondary was an INT machine. Safeties Earl Thomas and Kam Chancellor create a brutal last line of defense, with eight picks and three forced fumbles combined. On the other side, Byron Maxwell's filled in for Browner, with a respectable 0.90 yards per coverage snap and four picks in only 304 snaps. Maxwell is a bit smaller than the linebacker-like Browner, but he's done a solid job in his new starting role. Interception totals tend to be inconsistent and hard to predict, but there's little doubt that the ones Seattle's got this year owe a lot to the pressure created up front.
Let's look at how the Seahawks defense did against their opponent this week, the Saints. Week 13's New Orleans-Seattle matchup was a 34-7 rout of the Saints. The New Orleans offensive line seemed overwhelmed by the pass rush on nearly every play, especially on third down. Let's take a closer look at some of those instances.
First quarter, 5:41 remaining. It's third and long, so it's a passing play, which means Seattle's bringing the blitz. The Seahawks spread their four-man defensive line wide, giving Cliff Avril and Chris Clemons better chances around the edge. Drew Brees doesn't get time to make his progressions—though if he did, he'd see tight coverage at every level—so he ends up checking down to Darren Sproles for a useless three yards. Bring out the punt team.
Third quarter, 5:16 remaining. Another third and long, and the Saints want to run a screen to Sproles. Seattle's blitz doesn't even allow the New Orleans linemen to chip their man and get in position, completely blowing up any chance of a successful screen. Sproles gets tackled by K.J. Wright for a four-yard loss, and the Saints punt.
Fourth quarter, 10:05 remaining. This time, it's third and short, and the Seahawks send just a three-man rush, asking defensive tackle Clinton McDonald to drop back and help cover under Jimmy Graham. It shuts down Brees's security blanket, and the three-man rush does its job when Michael Bennett stifles a pass by Brees. The Saints go for it on fourth down but do not convert.
So, the crucial question: How do you beat Seattle's defense? For this, we'll take a look at the Seahawks' most interesting defeat, a surprising 34-28 loss to the Colts back in Week 5. First, note that the Colts' special teams unit put up six points with a blocked field goal returned for a touchdown, so the Indianapolis offense didn't do everything. But looking at the Colts' drives against the Seahawks, one thing sticks out: Andrew Luck's mobility. He's a bit quicker—and bigger—than Drew Brees, so when Seattle blitzed, he wouldn't panic. It wasn't just scrambling either, even though Luck is one of the better running quarterbacks in the league (though he never gets enough credit for it). In several instances, Luck successfully escaped the pressure, set his feet again, and found an open receiver. Patience under duress with his progressions allowed him to throw even though, after that amount of time, other quarterbacks would be slammed to the turf.
Luck's receivers also found space against that daunting secondary, his favorite target being the speedy T.Y. Hilton, who smoked Sherman and other coverage with five catches for 140 yards and two touchdowns. Sherman was primarily defending Hilton, but he simply had a terrible day. Hilton also drew two helpful defensive pass interference penalties against Sherman and Browner. Most importantly, Luck kept the turnovers to a minimum, fumbling once and throwing no interceptions.
This week, the low-hanging angle is that Brees and New Orleans play poorly on the road and in the cold, though they disproved that last week with a win in Philadelphia. The true test for the Saints is dealing with quarterback pressure more gracefully. Jimmy Graham, the Saints' best receiver, can't be held in check again so easily like he was in their previous matchup. Graham only tallied three catches for 42 yards and a touchdown, and that was without a big-time corner assigned to him. The Seahawks defense successfully wrecked their shit in their previous meeting, and if the Saints want to get to the NFC Championship, they must beat the pressure.
Correction: An earlier version of this article stated that the Seahawks had the second-easiest schedule this season, according to Football Outsiders. It was actually the Seahawks defense.
Photo: Elaine Thompson/AP