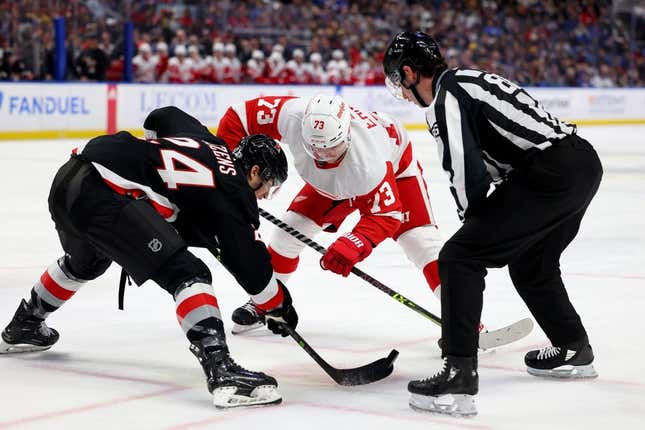 After a tough loss that put a damper on their playoff hopes, the Buffalo Sabres look to rebound when they visit the Detroit Red Wings on Thursday
The Sabres (37-32-7, 81 points) are coming off a 2-1 setback to the Florida Panthers on Tuesday. Had the Sabres won, they could have been within three points of a wild-card spot in the Eastern Conference, with games in hand on each of the three teams ahead of them
Instead, the club finds itself six points behind the Panthers (first wild card) and New York Islanders (second wild card), and five back of Pittsburgh, which is just on the outside. The Sabres have six games remaining, holding two games in hand on each
"We're not going to give up," defenseman Mattias Samuelsson told The Buffalo News. "I can promise you we're going to play until the end. You saw that out of the group (Tuesday). Everyone in that room is so hungry. Everyone wants to win. Yeah, we're young, but you're not going to be young forever.
"To be in the race and then come here in the biggest game in I don't know how long for the organization, right up until the end we were into it, battling, and I just think it shows the type of group we have."
Much of this season has been about growth and learning for a young and inexperienced Sabres squad
Buffalo hasn't been this close to a playoff spot this late in the season since the 2011-12 campaign, when it was eliminated in its second-to-last game of the season. The current roster features fewer than five players with NHL postseason experience.
"You've got to move right on," Sabres coach Don Granato said. "It was disappointing (Tuesday), but I still fully believe we have a chance and I think our guys do (too). There's more meaningful games ahead starting Thursday so you move onto that quick but take some experience from this one, no question.
The Sabres' power play has struggled of late, going 2-for-17 over their past five games
Once among the teams battling for a playoff spot, the Red Wings (35-33-9, 79 points) hit a month-long slide from Feb. 25 to March 25. They won just three times in 15 games (3-11-1) to fall back and essentially out of the race
Things have been better since, however, going 4-1-0 in their past five games, including wins against a pair of playoff-bound teams in the Carolina Hurricanes and Toronto Maple Leafs.
"It just keeps reminding me personally, and others, that if we would have won just a few more games," forward David Perron said. "That's just in the last month or so. Be nice for sure. I think that's something next year we've got to get that feeling and urgency a little bit earlier so that we remember how important every game is."
Perron had three points (two goals, one assist) for Detroit in its most recent outing, a 5-0 win against the Montreal Canadiens on Tuesday. The veteran has 12 points (six goals, six assists) in his past nine games. It's part of a solid first season with the Red Wings in which he has amassed 22 goals and 31 assists in 77 games
--Field Level Media