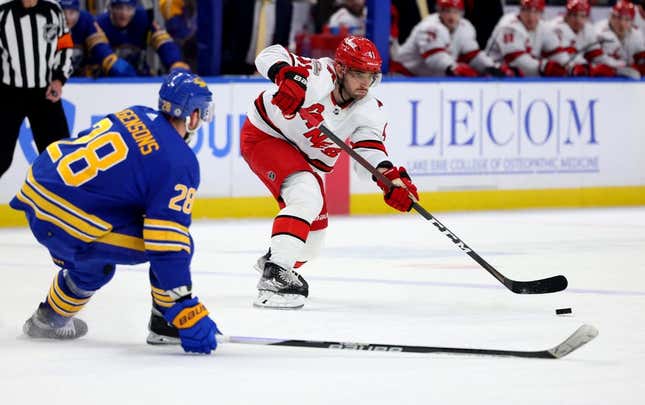 Closing in on their second consecutive Metropolitan Division title, the Carolina Hurricanes look to rediscover their scoring touch when they visit the Ottawa Senators on Monday
Marry a Taylor Heinicke, not a Tom Brady | Bert Kreischer on Love
Carolina (50-20-9, 109 points) is a point ahead of the New Jersey Devils and three points in front of the New York Rangers. The Hurricanes have a game at hand on both teams, so a win Monday would put Carolina a big step closer toward another division title
The Metropolitan crown might have been wrapped up long ago if the Hurricanes hadn't lost one of their top scorers. Carolina is 7-8-1 over its last 16 games, starting with a 4-0 loss to the Vegas Golden Knights on March 11 that saw Andrei Svechnikov sustain a season-ending knee injury
The three goals Carolina scored in Saturday's 4-3 loss to the Buffalo Sabres serves as a relative offensive outburst, yet it wasn't enough to prevent the Hurricanes from sustaining their second consecutive loss
"We're going to need myself and everyone through the lineup putting the puck in the back of the net and taking some heat off our top guys," forward Jordan Staal said. "It's a group that's got to battle through this adversity a bit right now, and we've got (to) ... keep pushing forward and find ways to start grinding out some wins."
Consistent offense certainly seems necessary if the Hurricanes are going to make a run at the Stanley Cup. Saturday's game was an example of how Carolina can't always rely on its excellent defense and goaltending, as Antti Raanta absorbed his first regulation loss in his last 18 starts (15-1-2)
Since the Hurricanes also scheduled to play the Detroit Red Wings on Tuesday, Raanta and Frederik Andersen are slated to split the back-to-back starts
The Senators snapped a four-game winless streak (0-2-2) with Saturday's 7-4 victory over the Tampa Bay Lightning. They matched their season high for goals in a game
The performance may have represented the venting of some frustration over missing the playoffs for the sixth consecutive season. The Senators (38-35-7, 83 points) officially were eliminated from the postseason race in their previous game, Thursday's 7-2 loss to the Florida Panthers
Monday is the Senators' last home game of the season, and head coach D.J. Smith expects his team to keep competing as they did against the playoff-bound Lightning
"We will work right until the final buzzer," Smith told the Ottawa Sun. "We'll do everything to win games. Whoever is hurt or not hurt, whoever is in the lineup will play the right way, and we'll do it right until the end. It's not going to change."
Cam Talbot stopped 24 of 28 shots against Tampa Bay in what could be the veteran's last outing of the season. The Senators might opt to give the remaining starts to younger goaltenders Mads Sogaard or even Leevi Merilainen of Belleville of the American Hockey League
Claude Giroux enters Monday's game with 998 career NHL points.
--Field Level Media