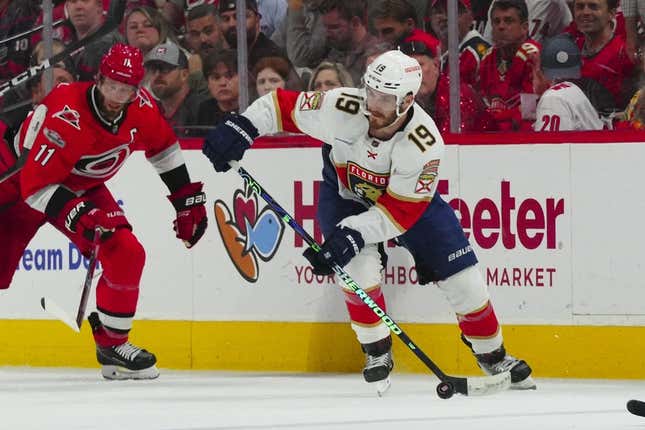 The time has come for the Carolina Hurricanes to prove their mettle
Having lost both of the first two games of their Eastern Conference finals in overtime -- and both at home, the Hurricanes must change their fortunes on Monday when their series with the Florida Panthers resumes in Sunrise, Fla
Is Texas or Florida State a bigger national title contender? | Agree to Disagree
The Hurricanes head into Game 3 of the best-of-seven affair well aware that a third consecutive loss will make reaching the Stanley Cup Final nearly impossible
"We've been kicked in the teeth here a lot these last few years and we've always responded," coach Rod Brind'Amour said. "I'm pretty sure we will the next game."
The difference in both games has been thin, but the Hurricanes must find their offensive touch. Carolina has scored only three goals in two games, over a total of more than 200 minutes of action
Florida goaltender Sergei Bobrovsky has been as much of a difference maker as anybody on the ice. Carolina has outshot the Panthers by a 103-86 margin. The Hurricanes claimed 1-0 leads in both games, but the inability to extend them has proven costly. Carolina built a 20-1 edge in shots in the first dozen minutes of Saturday's 2-1 loss but couldn't score a second goal before the Panthers tied the contest in the second period
"Obviously, we'd like to get a few more goals, especially when we're buzzing like that," center Jordan Staal said. "We had our chances, we had our looks to score a lot more than that, and they didn't go in.
"We knew it wasn't going to be easy and we're going to have to find ways to get some mojo going. Maybe a little greasy road win will get us going."
Stopping the runaway train that is the Panthers definitely will not be easy
Florida, which claimed the second and final Eastern Conference wild-card spot, has been the biggest surprise of the playoffs and appears to be gaining momentum. Since they trailed the Boston Bruins 3-1 in their opening-round series, the Panthers have won nine of 10 games. They have won all six of their overtime affairs in the playoffs
Bobrovsky took the net for Game 4 of the Boston series and has sparkled ever since, a huge turnaround from his play in the regular season. He has surrendered two or fewer goals in seven consecutive outings.
"I have a belief," Bobrovsky said. "We have a great group of guys. Again, it's a privilege for me to be in the group of guys and to help these guys as well."
It certainly helps Florida's cause that forward Matthew Tkachuk has found another gear in his game, too.
Tkachuk scored in overtime in both clashes this series. He joins the legendary Maurice Richard as the only players in league history to score the overtime winner on the road in each of the first two games of a playoff series.
Tkachuk has netted seven goals and 18 points in 14 playoff games, with a playoff-best plus-12.
"He's been huge for us," captain Aleksander Barkov said of Tkachuk. "Not just scoring goals, not just making plays. It's everything about being a hockey player, being a leader on the team. He's doing everything as good as possible."
--Field Level Media