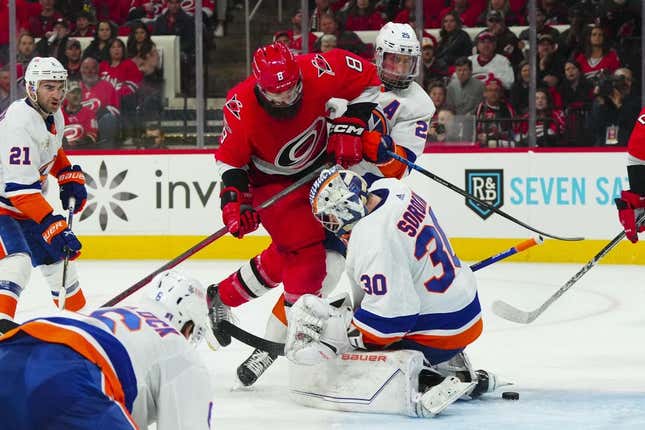 If the Carolina Hurricanes' revived power play continues to have postseason success, that might not bode well for the New York Islanders, who have their own offensive special teams' issues
After generating much-needed production with the man advantage in the opener, the host No. 2 seed Hurricanes aim for a 2-0 lead on the seventh-seeded Islanders in Game 2 of their first-round Eastern Conference series Wednesday night in Raleigh, N.C
Though Carolina recorded the second-most points (113) in the NHL in 2022-23, it ranked 20th in power-play percentage (19.8) and went 6-for-53 (11.3 percent) during the final 21 games of the regular season. However, Sebastian Aho and Stefan Noesen each posted power-play goals on four of the Hurricanes' chances en route to a 2-1 victory over New York in Monday night's Game 1
"It's about confidence," said Carolina's Martin Necas, who, along with Brent Burns, assisted on both goals.
"You get a couple of touches on the power play, guys are supposed to play with the puck more and get the feeling. ... We were dialed in, and (need to) keep it going that way."
Monday's impressive showing came against an Islanders' group that ranked in the top 10 this season, killing 82.2 percent of its opponents' power-play chances. Meanwhile, New York's own power-play unit, which ranked 30th (15.8 percent) during the regular season, went 0-for-4 in Game 1
Back in the playoffs after missing out last season, the Islanders have managed just three goals while losing four consecutive postseason road games. However, the Islanders still believe there is plenty to feel good about, and build on, from Monday's competitive effort
Notably, the play of netminder Ilya Sorokin, who made 35 saves against the Hurricanes. He set a career high for wins (31) while owning a 2.34 goals-against average this season
"We've got all the confidence in the world in (Sorokin)," veteran defenseman Noah Dobson told the Islanders' official website. "Now, it's just on us, we have to go find a way and get a big win here next game and go back home 1-1.
Fellow defenseman Ryan Pulock posted the lone goal for New York in Game 1. The Isles were stymied by Carolina's Antti Raanta (25 saves), earning the start over Frederik Andersen, who lost five of his final seven regular-season starts.
Including the playoffs, Raanta is a remarkable 28-2-2 with a 1.85 GAA and .930 save percentage at home in 34 starts spanning two seasons with the Hurricanes
"It's fun to play these games again," Raanta said. "It's just super exciting. Getting that home crowd going just gives you the energy."
Carolina has won eight of its last nine postseason home games.
Meanwhile, Aho has three goals and seven points during his last eight playoff contests. Entering play Tuesday, Burns' 64 points in 95 career playoff games since 2006-07 are tied for sixth among all defenseman during that span.
New York's Brock Nelson had a team-leading 75 points during the regular season but has been blanked in his last four playoff games.
--Field Level Media