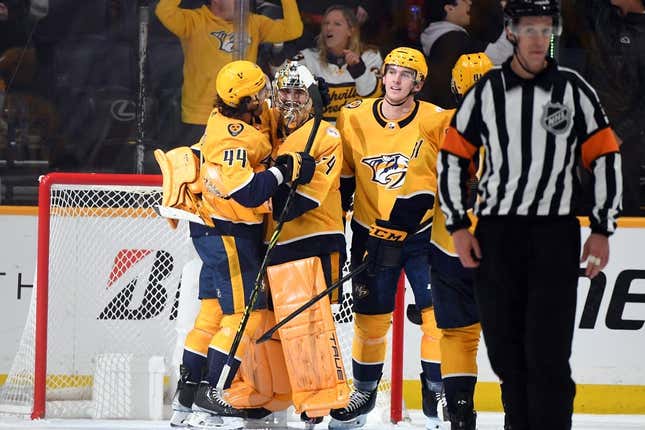 The Carolina Hurricanes and Buffalo Sabres are in different types of races as they move into the final week of the NHL regular season
Yet they'll be on similar missions Saturday afternoon when they meet in Buffalo.
The Hurricanes already have clinched a playoff spot and they control their destiny in a tight divisional race, while the Sabres need to rack up as many points as possible in their effort to climb into the Eastern Conference playoff picture
Carolina (50-19-9, 109 points) saw their lead atop the Metropolitan Division reduced to one point on the New Jersey Devils following Thursday's 3-0 loss to the Nashville Predators, though the Hurricanes have a game in hand
"You learn what you can, but really you just come back with a bigger and better effort," Carolina captain Jordan Staal said. "The division is still in our hands and we still have to win these games. To a man, we just need a better effort from everyone."
The Sabres (38-32-7, 83 points) are six points out of a playoff spot in the Eastern Conference. Yet they have more remaining games than any other team in the conference. The three teams Buffalo is chasing are the Pittsburgh Penguins, New York Islanders and Florida Panthers all have only three games left while the Sabres still have five to play
"Our backs are against the wall," Sabres coach Don Granato said. "We know that.
Buffalo pulled out a 7-6 shootout victory Thursday night in Detroit. It was the second time in its past three games that the Sabres have scored six goals in regulation
If the Sabres use goalie Devon Levi, 21, for the third game in a row, it will mark the second time in three games that Carolina faces a rather young netminder. The Hurricanes managed to top Ottawa and 20-year-old goalie Leevi Merilainen in overtime Tuesday night
"He's so confident and that's what you want in a goalie," Sabres center Dylan Cozens said of Levi. "He believes in his game. He wants to play in those high-pressure situations.
Levi has played in only three NHL games, but he said he's enjoying being put in such critical spots.
"It's pretty cool. It's a special situation," Levi said. "When you get the nod, it is business as usual."
Cozens is another Buffalo youngster at 22 years old. He has three goals across the past two games to give him 31 for the season.
In trying to peak for the playoffs, the Hurricanes' power-play issues have been troubling lately. That was noteworthy Thursday when Nashville scored its first goal short-handed
"We always focus on the next day," Hurricanes coach Rod Brind'Amour said. "Move on.
Carolina might not be able to afford any more subpar results to maintain its lead in the division. The Hurricanes have been shut out four times in the past month
"We weren't willing to battle through it and make a push," Staal said. "We looked pretty flat."
The Hurricanes had forward Teuvo Teravainen back after a four-game absence because of illness
Carolina has won 5-3 and 5-1 against Buffalo this season. Both times, Antti Raanta was the winning goalie. Based on Carolina's recent goalie rotations, it should be Raanta's turn in net Saturday.
--Field Level Media