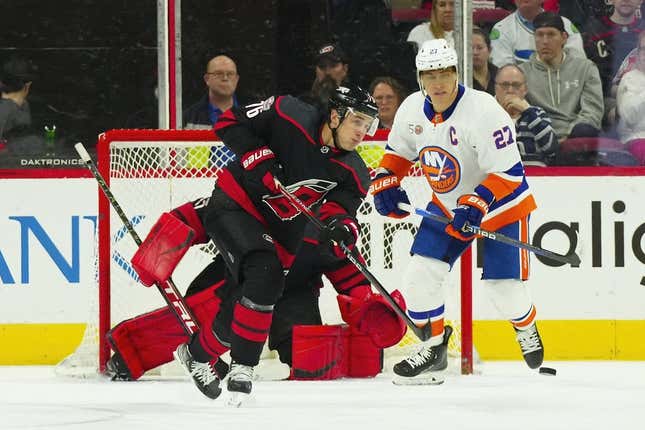 Jesperi Kotkaniemi and Jordan Martinook scored for the Carolina Hurricanes in a 2-1 win against the visiting New York Islanders on Sunday night in Raleigh, N.C
Can the Florida Panthers make a comeback? | Agree to Disagree
Frederik Andersen made 21 saves for the Hurricanes (49-18-9, 107 points), who won for the second straight night following a three-game losing streak
Jean-Gabriel Pageau scored for the Islanders (39-30-9, 87 points), who were coming off a 5-0 loss at the Tampa Bay Lightning on Saturday night
Ilya Sorokin made 33 saves for New York a night after he was pulled with 8:15 left in the second period after allowing four goals on 21 shots against Tampa Bay.
Carolina took its first lead at 2-1 on a goal by Martinook at 2:31 of the third period.
Jaccob Slavin banked a clearing attempt off the boards and the puck skipped past New York defenseman Adam Pelech just inside the Carolina blue line. That allowed Martinook to get loose on a 2-on-1 rush. He elected to shoot from the inside edge of the right circle and scored up high on the short side.
Pageau scored at 17:33 of the first period for a 1-0 lead.
Islanders defenseman Scott Mayfield passed the puck ahead to Pierre Engvall along the wall in the neutral zone. He had room to circle around and pick up speed coming down the middle of the offensive zone, then passed to Pageau on his left. Pageau took a one-timer from the top of the left circle that beat Andersen over his glove for his 13th goal of the season
Sorokin stopped all 15 shots in the first period.
The Hurricanes tied it 1-1 at 9:27 of the second period
New York turned the puck over on a pass into the neutral zone and Stefan Noesen fed Jesse Puljujarvi to begin the counterattack. Puljujarvi brought the puck down the right side of the New York zone and passed to Kotkaniemi trailing on the play. He took a wrist shot from the bottom of right circle that got between Sorokin's pads and skittered across the goal line.
--Field Level Media