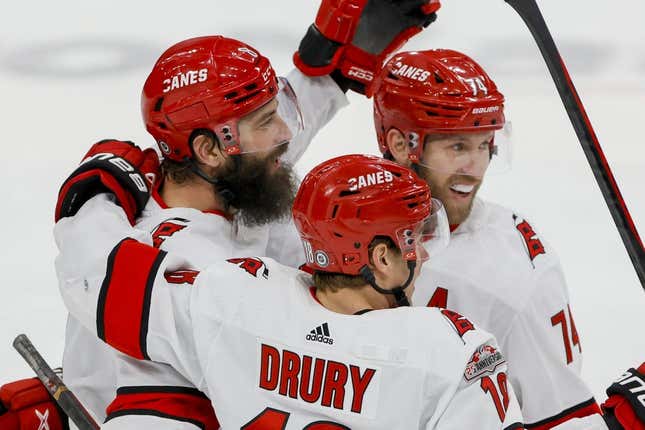 As division champions, the Carolina Hurricanes are in a good position heading into the playoffs
Does Jimmy Butler have the best NBA Finals origin story? | Agree to Disagree
But that doesn't mean the Hurricanes aren't without questions for their first-round series against the New York Islanders starting Monday in Raleigh, N.C
"You have to do what got you here," Hurricanes coach Rod Brind'Amour said. "But you understand there are adjustments and there are things you want to make sure you build on.
The Islanders are the No. 7 seed in the Eastern Conference and have some moving parts after going down to the wire to secure their playoff berth
The second-seeded Hurricanes are in the playoffs for the fifth consecutive season, winning a first-round series in each of the past two years (defeating Nashville 4-2 in 2021 and edging Boston last year in seven games)
"You definitely reset," Brind'Amour said. "It makes no difference how you got to this point now. It's kind of what you worked all this time for."
Carolina went 3-0 against the Islanders this season, including a 2-1 home victory on April 2
New York coach Lane Lambert pointed out the Hurricanes' wide diversity in their scoring -- a dozen of their players have at least 10 goals, compared to seven for the Islanders
Carolina leads the NHL in goals from defensemen, while Sebastian Aho (36 goals, 31 assists) and Martin Necas (28 goals, 43 assists) lead the scoring from the forwards.
"They put pressure on you," Lambert said.
Yet there have been concerns for Carolina because of some offensive dips in recent weeks and a slumping power play.
"We have to create offense off of our rebounds and forecheck," said Aho, whose team-leading 36 goals include a hat trick Jan. 21 in a road game against the Islanders
The Hurricanes won their final two regular-season games following a three-game skid that put their spot atop the Metropolitan Division in jeopardy. That took the divisional race down to Thursday night's victory for Carolina at Florida
A night earlier, the Islanders wrapped up their regular season by defeating the Montreal Canadiens to secure a spot in the postseason
"Playoff hockey, it's the best time of the year," Islanders forward Bo Horvat said
Frederik Andersen was in the Hurricanes' net for the last two matchups with the Islanders. It will be either Andersen or Antti Raanta, who hasn't faced the Isles this season. Those goalies have rotated starts the past two weeks
"We're pretty confident with both guys," Brind'Amour said. "We're open to anything at this point."
The Islanders already have a potential boost as forward Mathew Barzal will be ready for Game 1. He hadn't played since being injured on Feb. 18
Barzal could join the top line with Horvat and Anders Lee.
"It just lifts my soul," Barzal said. "I'm just coming back here to jump on the train and continue what these guys have done the last 20 games."
Barzal had 14 goals and 37 assists in 58 regular-season games.
Lee called the Hurricanes "difficult to play against.
"They're in your face and on your back and play a fast game," he said.
The Islanders won't have defenseman Alex Romanov available Monday and it's unclear if he'll make it on the ice at all for the Carolina series. He played in 76 games during the regular season, but his injury occurred the day before the April 2 loss to the Hurricanes
Game 2 of the best-of-seven series is Wednesday night in Raleigh before the Islanders are home for the following two games
--Field Level Media