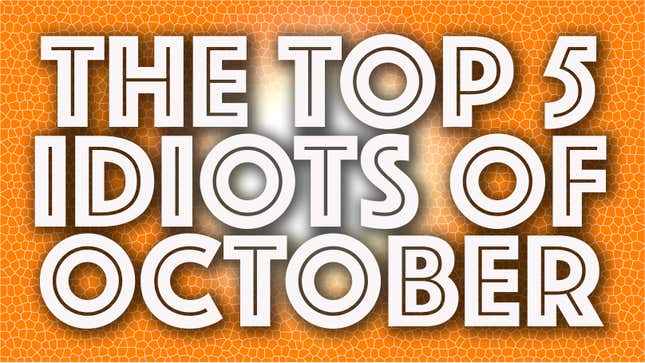 Welcome to Deadspin's IDIOT OF THE MONTH bonanza! Everything is terrible!

5. Tommy Tuberville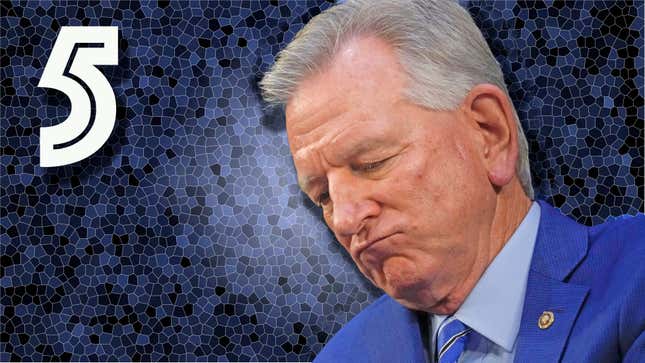 Tommy Tuberville wouldn't be a U.S. senator had he been a better coach. Yes, his 159-99 record isn't terrible and there was that one year he led Auburn to an undefeated season, but War Eagle was passed over for the BCS game. However, he fizzled out at Texas Tech and Cincinnati after parting ways with the Tigers largely due to an archaic coaching style that was as outdated as his personal beliefs.
Well, is there a way to get him a job back on the sidelines. It doesn't have to be a power five school. Hell, it doesn't even have to be in college. A high school gig will do. Anything to get him as far away from a position of real power as possible.
His anti-reparations, all-Black-people-are-criminals rant at a a Nevada rally passes as a stump speech these days as people who used to give a fuck about politics now think they're James Carville and are fit to run for office because they watch Fox News and post about politics on social media.
As Deadspin's Stephen Knox pointed out, if Tuberville uttered words that even remotely sounded like that bullshit rhetoric, he'd immediately be out of a job in 95 percent of industries. Instead, a bunch of fuckwit bigots cheer him on because they view it as courageous and brave in the face of cancel culture.
He's not telling it like it is, nor is he being courageous. He's promoting hate and divisiveness in hopes that it furthers his political career because he failed in his first line of work. His political idol, Donald Trump, normalized the path to power for the procession of idiots that would follow, and Sen. Tuberville is the latest slack-jawed dumbass to adopt racism as a campaign slogan.
So, Tommy Tubs, unlike your current job in politics or those millions you were paid in coaching buyouts, you've actually earned a well-deserved place on the IDIOT OF THE MONTH list.
4. This Protester Who Got Trucked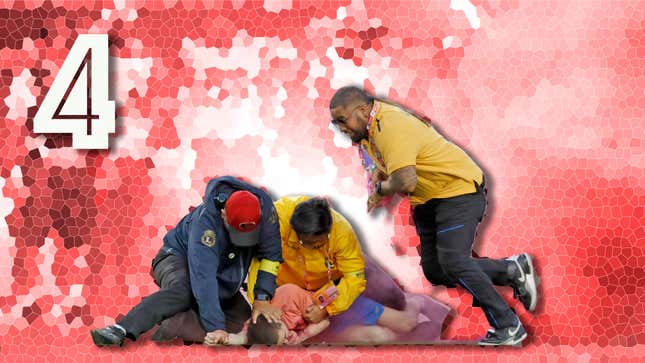 Entering a hostile situation and expecting not to get met with hostility is your own fault if you believe that logical physical consequences don't apply to you.
That person who ran onto the field during the Los Angeles Rams and San Francisco 49ers Monday Night Football matchup, and was swallowed up by Bobby Wagner, got what was coming to him. Here were a few dozen of the largest people on earth, wearing armor, playing a collision sport on that field — a field which is off limits to the public.
So a group of large professional athletes are basically fighting each other, and an intruder got hurt when he inserted himself into the situation. The intruder was a protestor, filed a police report, and claims that he received a concussion. Sir, you didn't disrupt a routine day. You inserted yourself into a place where the only people not allowed to be hit wear stripes, and you brought an object with you — a smoke bomb.
You got what you deserved, and are lucky it wasn't worse.
3. Herschel Walker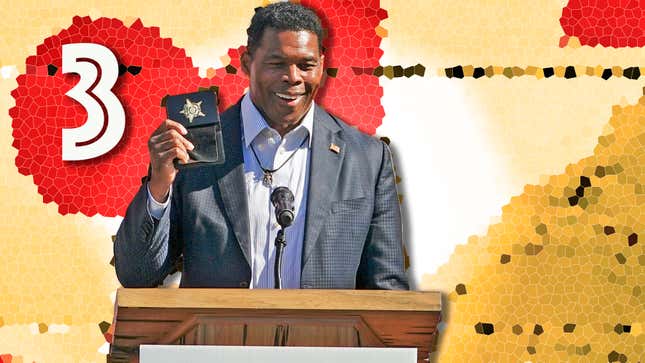 It's the final time we'll see Herschel Walker appear on our IDIOT OF THE MONTH countdown this year as just a U.S. Senate candidate. But it's almost assuredly not the final time Walker will do something beyond comprehension and end up back on this list again . Hopefully the wonderful people of The Peach State keep him from reaching Congress over the coming days. That election isn't about who the more qualified candidate is. If it was, Walker wouldn't be on the ballot for his constant lies, underwhelming level of preparedness, and all-around awful nature.
Let's start with his recent debate against incumbent Raphael Warnock, where Walker pulled out a fake police badge, insinuating that he had been an active member of a law enforcement agency. He hadn't. He's also allegedly paid for the abortions of at least two women despite being pro-life, a posture of hypocrisy that falls in line with his Republican colleagues. He's denied that, of course. Lying is something that's associated with Walker speaking, so his denials essentially confirm every detail the women's attorneys have brought forward. You know who defines abortion as murder? Republicans. You know who also supports Walker for public office? The Republican party, because as long as there's another conservative vote on the Senate floor, the hypocrisy doesn't matter.
Walker's campaign for the Senate has been laughable to anyone paying attention without bias. He was a phenomenal athlete and no one will take those accomplishments away. He's also been a mainstay on Idiot of the Month for a reason. Do you know how many dumb things he's said recently? The fact that it's possible that Walker is the worst Republican candidate to run for public office at a time when conspiracy theorists, Donald Trump and election deniers are up and down the ticket, says all you need to know.
2. Antonio Brown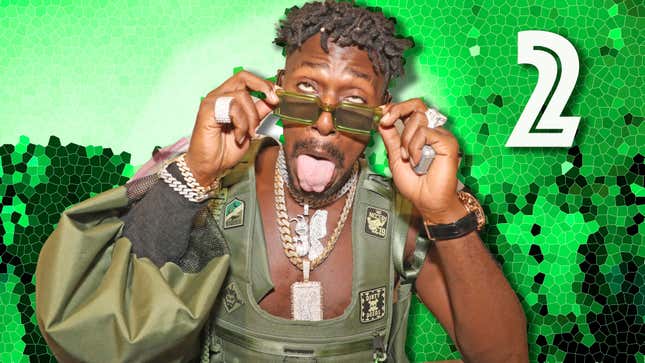 Antonio Brown went full Deshaun Watson at a hotel pool in the United Arab Emirates this past May, but news of his inappropriate shenanigans didn't become publicly available until this month. That said, Antonio Brown acted so stupidly and responded in such an immature manner that it makes his inclusion a no-brainer even if technicalities wouldn't normally permit such.
The former All-Pro and current rap artist was caught on camera harassing a woman while exposing his glutes, genitalia, and massive unchecked ego to several onlookers who all cheered and laughed at the woman's obvious discomfort. After getting some heat from the public after the video emerged, Brown took to Twitter to defend himself.
How tone deaf must you be to post something like this? This isn't about the NFL. The NFL isn't the ones making you look like a fool right now. You're not even associated with them. Brown has made himself a laughingstock all on his own, no partners in crime necessary.
Not only does the video not "clearly" show the woman swimming off with Brown's trunks like he claims, but even if she was, that doesn't give Brown an excuse to continue waving his ass and pecker at her. If she really wanted him, she would've come back after finally getting away. When Brown raised his erection out of the water for the entire hotel to see and shouted, "You know you want this!" at her, she would've come back, wouldn't she? Instead, according to the New York Post, she immediately went to members of the hotel staff to complain about the entire incident. She was obviously uncomfortable and didn't appreciate the gestures.
I haven't even gotten to the fact that near the end of their encounter, Brown stole a scarf from a different vacationer and tried to put it around the woman's face. With both Brown and his victim surrounded by water, putting a cloth over someone's face isn't a kind gesture, it's a method of torture used in Guantanamo Bay, known as waterboarding. The woman immediately tried to throw it off, but Brown didn't take kindly to the rejection and promptly threw the woman over his shoulder. That's when she finally gets away.
Yeah, dude, you really know how to make women swoon. What an absolute buffoon.
1. Kanye West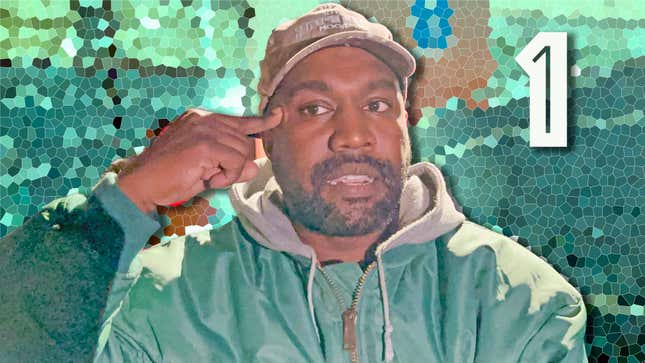 Kanye West's idiocy wasn't just harmful to the Jewish community, but created collateral damage that reverberated from his Donda Sports clients to the student-athletes at his now-shuttered Donda Academy. First of all, the school he dedicated to his mother, a lifelong educator in Chicago, was unaccredited and built on volatile ground as an institution; all it took was one week of Kanye committing career suicide for it to collapse along with him.
The thing about Ye is that he's always been this way. He's insulted the working class, he's insulted nominees at award shows, African-Americans, George Floyd, Jewish Americans, and countless others. His narcissism and bipolar disorder combined with his religiosity have mixed into a toxic personality. Now he's entered his antisemitism era.
Almost every company that had an existing relationship with Ye has nixed their mutually-beneficial partnerships. His brand is in the tank and he's still operating like the victim. Worst of all is that his brand of idiocy served as a clarion call for the feeble-minded masses out there. Antisemites and antisemites-in-training all picked up the wave his bumbling mind was transmitting on and they've spread their bullshit. Meanwhile, he's created a League of Extraordinary Idiots ranging from Kyrie Irving, whose superpower is overestimating his self-importance, Implosion Man Antonio Brown who moonlights as President of Donda Sports and Marcus Stroman among others.
A majority of the idiots and bigots in Idiots of the Month like Tommy Tuberville are imbeciles, but at least their cretinous behavior is for their own benefit. Kanye West had a billion-dollar brand that he self-immolated. Ye will probably utilize his self-imposed martyrdom to try and become the Trump of the antisemite community. Hatred and bigotry are Ye's black market business now and the industry can be profitable if you're unscrupulous enough to tap into the market. Candace Owens, Clay Travis, Alex Jones, Trump and countless media personas play a part for monetary gain. For Ye, it didn't have to be this way. However, this is his bed now, and now he's got to sleep in it.