The examined hypothesis of Kevin Clark's new article in The Ringer, about a belief within the NFL that the "on-field product" is becoming kinda shitty, is that the game is suffering because the league is getting drastically younger, which has led to players with underdeveloped skills and minds seeing more and more time on the field.
Note that this isn't Clark's personal opinion, nor the lament of the average fan. It is instead presented as a consensus building among the NFL's most important minds. Clark gets on-the-record quotes from NFLPA leader De Smith, as well as head coaches John Harbaugh, Mike McCarthy, Marvin Lewis, and Ron Rivera, plus GMs Doug Whaley (Bills), Dave Gettleman (Panthers), Rick Spielman (Vikings), and Jon Robinson (Titans). Says McCarthy:
"Let's be honest, the younger the league, the less experienced the league is and with that, the quality of play doesn't start off at the same level," said Packers head coach Mike McCarthy. "I think what you see, particularly in the early part of the season, is a reflection of that."
G/O Media may get a commission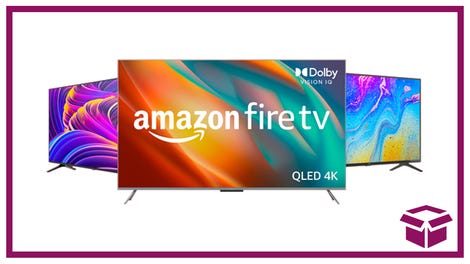 Ooh. stunning.
New Amazon Fire TVs
Per Clark, the cause of this phenomenon is the CBA, which was renegotiated in 2011 to depress rookie salaries, especially at the top of the draft—as Clark notes, Sam Bradford's first contract with the Rams guaranteed him $50 million, while Jared Goff's rookie deal guarantees him $27.5 million. The intent of this change was to divert money to veterans, but what it has actually done is make cheap young players so disposable—and good cheap young players so valuable—that vets are instead just being pushed out of the league. Says the Titans' Robinson, whose 53-man roster has 27 players on their first contracts:
"The way the CBA is structured now, it's really no different from any other workforce in that you want to find the healthiest, youngest, least-expensive talent and infuse it into your corporation," said Titans general manager Jon Robinson. "We're the same model."
The coaches and GMs quoted in the piece speak about this slide down quality's slope as if roster composition is totally out of their control, and in this case they're basically right. The economic realities of the league are dictated by the CBA, which is negotiated by the owners and the players' association. The owners more or less agree upon how much money per year they would like to spend on talent—this year the salary cap is $155 million—and every offseason that number necessitates cost-cutting measures, including getting rid of higher-paid established players, as teams attempt to field competitive rosters made up of players who can only make, on average, under $3 million per season.
The solution to this problem is so simple that you've surely concluded it on your own: the owners have to spend more money. If they were willing to cut into their profits, the cap could be raised or roster sizes increased so that teams were able to retain more experienced players while still having room to develop unseasoned rookies who are now, per the coaches, thrown into action before they're physically or mentally ready because they're too cheap to not be on rosters. The owners simply need to create more jobs. What could be more American?
The article also argues that the problem starts not in the NFL but in college, where players are increasingly declaring early for the draft—per Clark, this year's draft featured 107 players who left for the NFL before their eligibility was up. The cause of this is obvious: College players know they're only one snap away from their careers ending, so they need to lock in NFL money at the earliest possible opportunity. The solution to this is even more obvious: help facilitate the paying of college players, or start a professional, NFL-run minor league.
How NFL owners feel about all of this is unclear. None are quoted in Clark's article, and are scarcely mentioned, but you don't have to walk out onto a limb to guess that they would have little interest in paying anything more than the bare minimum to field a competitive, profitable league.
Anyway, the problem with griping about quality of play in the NFL is that it hasn't yet curbed America's obsession with football—Clark himself wrote about this last season in an article titled "NFL's Quality of Play Hits Rock Bottom, No One Cares." It would seem that such concerns matter only to football purists—coaches, GMs, readers of The Ringer—a group that does not appear to overlap greatly with the 40-something million people who watch the NFL every Sunday.