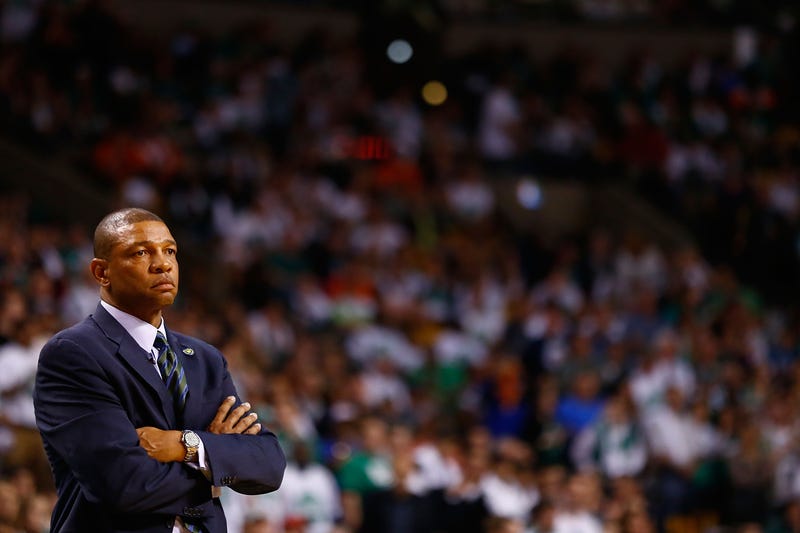 The Boston Celtics and Los Angeles Clippers both dealt with disappointing exits in the playoffs, so of course they're making moves for next season. In terms of moves to make, though, the possibility reported by Adrian Wojnarowski sounds pretty freaking huge.
Boston would send Kevin Garnett, who would waive his no-trade clause, and the right to hire head coach Doc Rivers in exchange for DeAndre Jordan and two first-round picks. Also, according to Wojnarowski's sources, assistant coach Tyronn Lue would presumably follow Rivers to the Clippers, which sucks for the Celtics as he'd be a strong candidate to replace Rivers. Apparently, the last piece is Los Angeles also sending Eric Bledsoe over, which is the obstacle holding everything up.
If it went through, this would be a hugely beneficial trade for both parties. The Clippers would acquire an excellent head coach—at a hefty price, Rivers is making $7 million a year right now—and Garnett, who's still a great player, regardless of age. This kind of move would also likely entice current free-agent point guard Chris Paul to return to the team.
The Celtics would receive a young center to improve their heinous rebounding while they figure out what to do with Jared Sullinger and Fab Melo. The picks help as trade pieces or prospects to rebuild the post-Big Three team. But if they also convinced the Clippers to ship Eric Bledsoe? Boston would be in a rather nice position next season.
Both fanbases should be extremely excited if this report turns out to be accurate. The only bad part about this potential trade is Donald Sterling still being the owner of an NBA team.
Photo: Jared Wickerham/Getty Images