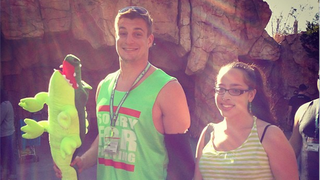 How does human keg stand Rob Gronkowski respond to being Gronkshamed by a stodgy Boston sports columnist? He grabs his "Sorry For Partying" tank top and heads to Universal Studios to party, obviously.
This photo of Gronk was captured by a Patriots fan who was lucky enough to stumble upon Gronk while he was in a good mood. (Who are we kidding? Gronk is always in a good mood.) The picture is made so much better by this added bit of context, taken from the comment thread of the fan's Instagram account:
he was cool! first said he was only takin pics with kids but I persuaded him... he said my entrance fee would be making out with the alligator stuffed animal, but he didn't think I'd say yes to doing it lol #clearlydoesntknowme
The Summer Of Gronk Part Two rolls on.